Printed Signature of Dwight D. Eisenhower - Waging Peace - October 14, 1965 dated Americana
Inv# AU1669
Autograph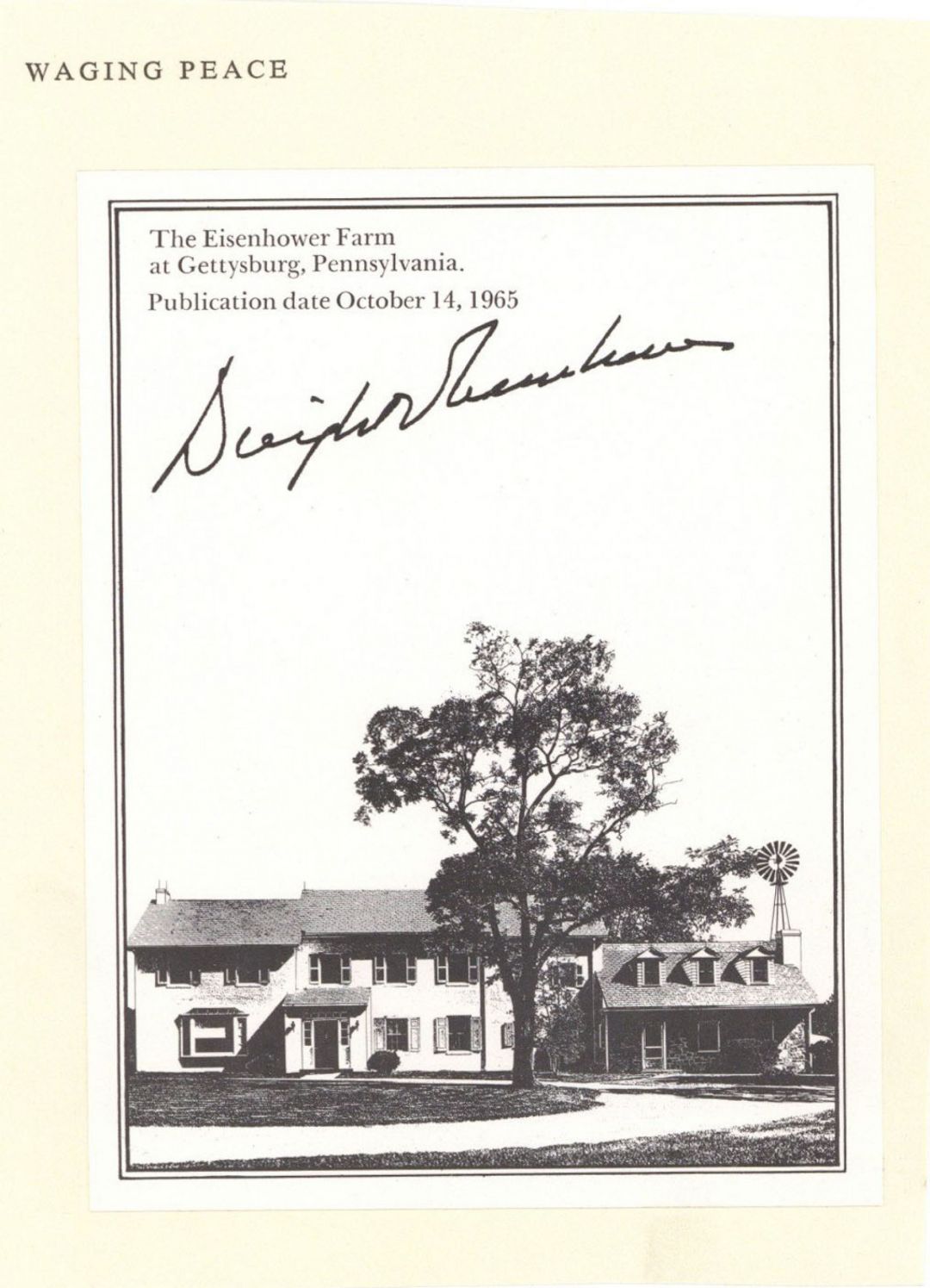 View Larger Image
State(s): Pennsylvania

Years: October 14, 1965
Printed signature of Dwight D. Eisenhower on picture of "The Eisenhower Farm at Gettysburg, Pennsylvania".
Dwight David Eisenhower (born David Dwight Eisenhower; October 14, 1890 – March 28, 1969), nicknamed Ike, was an American military officer and statesman who served as the 34th president of the United States from 1953 to 1961. During World War II, he served as Supreme Commander of the Allied Expeditionary Force in Europe and achieved the five-star rank as General of the Army. Eisenhower planned and supervised two of the most consequential military campaigns of World War II: Operation Torch in the North Africa campaign in 1942–1943 and the D-Day invasion of Normandy in 1944.
Eisenhower was born into a large family of mostly Pennsylvania Dutch ancestry in Denison, Texas, and raised in Abilene, Kansas. His family had a strong religious background, and his mother became a Jehovah's Witness. Eisenhower, however, belonged to no organized church until 1952. He graduated from West Point in 1915 and later married Mamie Doud, with whom he had two sons. During World War I, he was denied a request to serve in Europe and instead commanded a unit that trained tank crews. Following the war, he served under various generals and was promoted to the rank of brigadier general in 1941. After the United States entered World War II, Eisenhower oversaw the invasions of North Africa and Sicily before supervising the invasions of France and Germany. After the war ended in Europe, he served as Military Governor of the American-occupied zone of Germany (1945), Army Chief of Staff (1945–1948), president of Columbia University (1948–1953), and as the first Supreme Commander of NATO (1951–1952). He was also the last president to have been born in the nineteenth century. Read more at https://en.wikipedia.org/wiki/Dwight_D._Eisenhower
Condition: Excellent
Item ordered may not be exact piece shown. All original and authentic.