Pencil Drawing signed by Sonja Henie - Autograph
Inv# AU1629
Autograph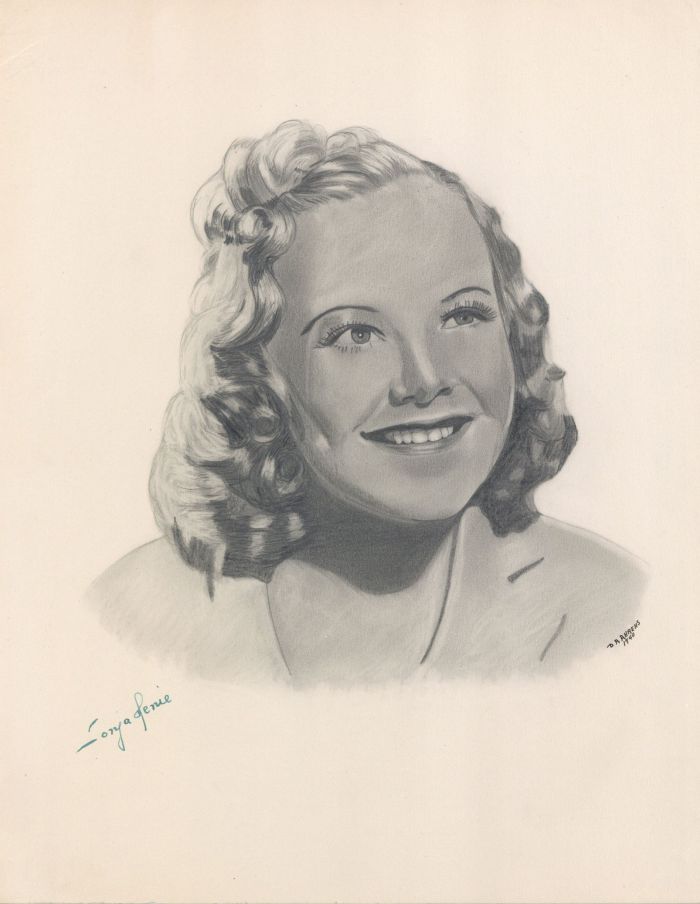 Years: 1940
Pencil drawing of Sonja Henie signed by her and the artist D.A. Ahrens. Large size measures 11" x 14".
Sonja Henie (8 April 1912 – 12 October 1969) was a Norwegian figure skater and film star. She was a three-time Olympic champion (1928, 1932, 1936) in women's singles, a ten-time World champion (1927–1936) and a six-time European champion (1931–1936). Henie has won more Olympic and World titles than any other ladies' figure skater. At the height of her acting career, she was one of the highest-paid stars in Hollywood and starred in a series of box-office hits, including Thin Ice (1937), Happy Landing, My Lucky Star (1938), Second Fiddle (1939) and Sun Valley Serenade (1941). 
Henie won her first major figure skating competition, the senior Norwegian championships, at the age of 10. She then placed eighth in a field of eight at the 1924 Winter Olympics, at the age of eleven. Henie won the first of an unprecedented ten consecutive World Figure Skating Championships in 1927 at the age of fourteen. The results of 1927 World Championships, where Henie won in 3–2 decision (or 7 vs. 8 ordinal points) over the defending Olympic and World Champion Herma Szabo of Austria, was controversial, as three of the five judges that gave Henie first-place ordinals were Norwegian (1 + 1 + 1 + 2 + 2 = 7 points) while Szabo received first-place ordinals from an Austrian and a German Judge (1 + 1 + 2 + 2 + 2 = 8 points). Henie went on to win first of her three Olympic gold medals the following year, becoming one of the youngest figure skating Olympic champions. She defended her Olympic titles in 1932 and in 1936, and her world titles annually until 1936. She also won six consecutive European championships from 1931 to 1936. Henie's unprecedented three Olympic gold medals have not been matched by any ladies' single skater since, nor have her achievements as ten-time consecutive World champion. While Irina Slutskaya of Russia has held the record for most European titles among ladies' skaters since 2006, Henie still retains the record of most consecutive titles, sharing it with Katarina Witt of Eastern Germany/Germany(1983–1988).
Towards the end of her career, she began to be strongly challenged by younger skaters including Cecilia Colledge, Megan Taylor, and Hedy Stenuf. However, she held off these competitors and went on to win her third Olympic title at the 1936 Winter Olympics, albeit in very controversial circumstances with Cecilia Colledge finishing a very close second. Indeed, after the school figures section at the 1936 Olympic competition, Colledge and Henie were virtually neck and neck with Colledge trailing by just a few points. As Sandra Stevenson recounted in The Independent, "the closeness [of the competition] infuriated Henie, who, when the result for that section was posted on a wall in the competitors' lounge, swiped the piece of paper and tore it into little pieces. The draw for the free skating [then] came under suspicion after Henie landed the plum position of skating last, while Colledge had to perform second of the 26 competitors. The early start was seen as a disadvantage, with the audience not yet whipped into a clapping frenzy and the judges known to become freer with their higher marks as the event proceeded. Years later, a fairer, staggered draw was adopted to counteract this situation".
During her competitive career, Henie traveled widely and worked with a variety of foreign coaches. At home in Oslo, she trained at Frogner Stadium, where her coaches included Hjørdis Olsen and Oscar Holte. During the latter part of her competitive career she was coached primarily by the American Howard Nicholson in London. In addition to traveling to train and compete, she was much in demand as a performer at figure skating exhibitions in both Europe and North America. Henie became so popular with the public that police had to be called out for crowd control on her appearances in various disparate cities such as Prague and New York City. It was an open secret that, in spite of the strict amateurism requirements of the time, Wilhelm Henie demanded "expense money" for his daughter's skating appearances. Both of Henie's parents had given up their own pursuits in Norway—leaving Leif to run the fur business—in order to accompany Sonja on her travels and act as her managers.
Henie is credited with being the first figure skater to adopt the short skirt costume in figure skating, wear white boots, and make use of dance choreography. Her innovative skating techniques and glamorous demeanor transformed the sport permanently and confirmed its acceptance as a legitimate sport in the Winter Olympics. 
After the 1936 World Figure Skating Championships, Henie gave up her amateur status and took up a career as a professional performer in acting and live shows. While still a girl, Henie had decided that she wanted to move to California and become a movie star when her competitive days were over, without considering that her strong accent might hinder her acting ambitions.
In 1936, following a successful ice show in Los Angeles orchestrated by her father to launch her film career, Hollywood studio chief Darryl Zanuck signed her to a long-term contract at Twentieth Century Fox, which made her one of the highest-paid actresses of the time. After the success of her first film, One in a Million (1936), Henie's position was assured and she became increasingly demanding in her business dealings with Zanuck. Henie also insisted on having total control of the skating numbers in her films such as Second Fiddle (1939).
Henie tried to break the musical comedy mould with the anti-Nazi film Everything Happens at Night (1939) and It's a Pleasure (1945), a skating variation of the often-told A Star Is Born tale about alcoholic-star-in-decline-helps-newcomer-up. It was her only film shot in Technicolor, but it was not as huge at the box office as her other films and also proved her limitations as a dramatic actress in her only dramatic film.
When Zanuck realized this, he cast her in more musical comedies; Sun Valley Serenade (1941) with Glenn Miller, John Payne, The Nicholas Brothers, and hit songs such as "In the Mood", "Chattanooga Choo Choo", "It Happened in Sun Valley", and "I Know Why (And So Do You)"; followed by Iceland (1942) with Jack Oakie, Payne, and the hit song "There Will Never Be Another You"; and finally Wintertime (1943) with Cesar Romero, Carole Landis, Cornel Wilde, and Oakie. Sonja had by now developed a comedy flair and these films were all among the top box-office hits for 20th Century-Fox the respective years. Eight Sonja Henie movies crossed the $100 million domestic gross mark. Happy Landing (1938) was her biggest box office hit.
In addition to her film career at Fox from 1936 to 1943, Henie formed a business arrangement with Arthur Wirtz, who produced her touring ice shows under the name of "Hollywood Ice Revue". Wirtz also acted as Henie's financial advisor. At the time, figure skating and ice shows were not yet an established form of entertainment in the United States. Henie's popularity as a film actress attracted many new fans and instituted skating shows as a popular new entertainment. Throughout the 1940s, Henie and Wirtz produced lavish musical ice skating extravaganzas at Rockefeller Center's Center Theatreattracting millions of ticket buyers.
At the height of her fame, Henie brought as much as $2 million per year from her shows and touring activities. She also had numerous lucrative endorsement contracts, and deals to market skates, clothing, jewelry, dolls, and other merchandise branded with her name. These activities made her one of the wealthiest self-made women in the world in her time. 
Henie broke off her arrangement with Wirtz in 1950 and for the next three seasons produced her own tours under the name "Sonja Henie Ice Revue". It was an ill-advised decision to set herself up in competition with Wirtz, whose shows now featured the new Olympic champion Barbara Ann Scott. Since Wirtz controlled the best arenas and dates, Henie was left playing smaller venues and markets already saturated by other touring ice shows such as Ice Capades. The collapse of a section of bleachers during a show in Baltimore, Maryland in 1952 compounded the tour's legal and financial woes.
In 1953, Henie formed a new partnership with Morris Chalfen to appear in his European Holiday On Ice tour, which proved to be a great success. She produced her own show at New York's Roxy Theatre in January 1956. However, a subsequent South American tour in 1956 was a disaster. Henie was drinking heavily at that time and could no longer keep up with the demands of touring, and this marked her retirement from skating. She did try to make a film series at her own expense; a series that would serve as a travelogue to several cities. Paris and London were mentioned, but only Hello London (1958) was made with her own backing, co-starring Michael Wilding and special guest star Stanley Holloway. While her ice show numbers were still worth watching, the film received few distributors and poor reviews, ending her film career.
Her autobiography Mitt livs eventyr was published in 1938. An English translation, Wings on My Feet, was released in 1940 and republished in a revised edition in 1954. At the time of her death, Henie was planning a comeback for a television special that would have aired in January 1970. She was to have danced to "Lara's Theme" from Doctor Zhivago.
Condition: Excellent
Item ordered may not be exact piece shown. All original and authentic.