One William Street Fund, Inc. - Investment Stock Certificate
Inv# GS6101
Stock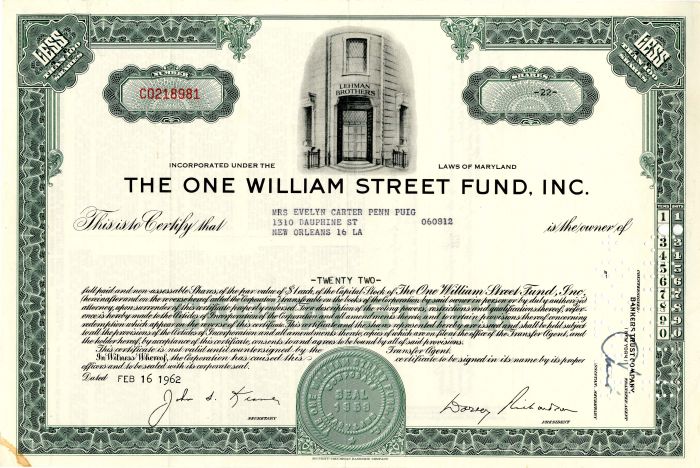 State(s): Maryland

Years: 1960-66
Color: Green or Blue
Stock printed by Security-Columbian Banknote Company. "Lehman Brothers".
Paul Manheim (1906–1999) was an American businessman whose 40-plus year career with the investment banking firm of Lehman Brothers was mostly focused on providing personal investment counsel and asset management to affluent Americans in the decades after World War II. He began his tenure at Lehman Brothers as a technical analyst, then acted as a general partner for 26 years. He was elected to the boards of directors of more than ten corporations, serving on the boards of motion picture studios Metro-Goldwyn-Mayer and Paramount Pictures. He worked on Lehman Brothers' development of its first open end investment fund – the One William Street Fund. He was a patron of the arts, serving the Brooklyn Museum, the Metropolitan Museum of Art and the Boston Museum of Fine Arts. He was recognized for his collection of Asian art and the respect he had for the genre. He donated most of his collection to the Brooklyn Museum.
Manheim was born in what is now the Slovak Republic in 1906. He and his family moved to New York City when he was an infant. He had three siblings, all now deceased. Frank (b. 1910 New York City) was an American businessman and also a partner at Lehman Brothers. His sister, Alice Manheim Kaplan (b.1903 Budapest), was a New York socialite and patron of the Arts and former president of the American Federation of Arts. Manheim's younger sister, Louise Manheim Espy (b. 1919 New York City) was the wife of renowned writer and wordsmith, Willard Espy, who credited her for his success as the author of 16 books. Read more at https://en.wikipedia.org/wiki/Paul_Manheim
Condition: Excellent
A stock certificate is issued by businesses, usually companies. A stock is part of the permanent finance of a business. Normally, they are never repaid, and the investor can recover his/her money only by selling to another investor. Most stocks, or also called shares, earn dividends, at the business's discretion, depending on how well it has traded. A stockholder or shareholder is a part-owner of the business that issued the stock certificates.
Item ordered may not be exact piece shown. All original and authentic.