Northern Pacific Railroad Co. signed by Jay Cooke - Stock Certificate
Inv# NP1005
Stock
Years: 1870's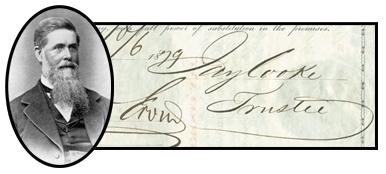 The nation was slowly healing its wounds and recovering from the disastrous effects of the Civil War. Visionaries of the period looked to the future and the opportunities available in a recovering nation's expansion. Naturally so, men of stout hearts looked west. Thus, it is no surprise that the man who successfully orchestrated the Union effort in selling bonds to finance the war turned his eye toward his next great challenge, the resurrection of the Northern Pacific Railroad. After years of failed attempts at financing the road, the future of the company lie in doubt. Jay Cooke arrived on the scene, successfully lobbying Congress for legislative change which would facilitate his grand plan for financing the construction of the road. Thus the first tracks of what would become America's second transcontinental railroad were laid. As construction continued, rising costs necessitated the need for constantly growing amounts of capital and Jay Cooke boldly took the lead. His optimism for the costly project exceeded even his firm's abilities to muster the financial resources to continue in the face of ever-increasing fears of failure by the banking community. Ultimately, with Jay Cooke & Company's fortunes closely tied to the Northern Pacific Project, the firm failed and was forced into bankruptcy and in some part, contributed to the onset of the financial panic of 1873.
NP1005. Jay Cooke Signed Stock, 1870's. $750
NP1005a. Same but signed by both Jay Cooke and Jay Cooke Jr. $850
Condition: Excellent
A stock certificate is issued by businesses, usually companies. A stock is part of the permanent finance of a business. Normally, they are never repaid, and the investor can recover his/her money only by selling to another investor. Most stocks, or also called shares, earn dividends, at the business's discretion, depending on how well it has traded. A stockholder or shareholder is a part-owner of the business that issued the stock certificates.
Item ordered may not be exact piece shown. All original and authentic.