Northern Pacific Railroad Co. signed by William. G. Fargo - Autograph Stock Certificate
Inv# AG1925B
Stock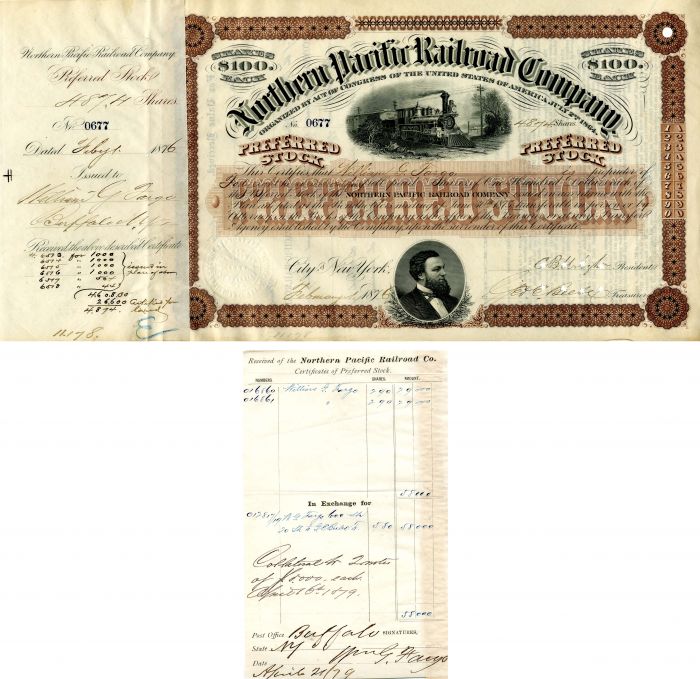 State(s): New York

Years: 1876
Stock issued to and signed by William George Fargo.
William George Fargo (May 20, 1818 – August 3, 1881) was a pioneer American expressman who helped found the modern-day financial firms of American Express Company and Wells Fargo with his business partner, Henry Wells. He was also the 27th Mayor of Buffalo, serving from 1862 until 1866 during the U.S. Civil War.
Fargo was a director and vice-president of New York Central Railroad Company, a director and shareholder of the Northern Pacific Railway, a director of the Buffalo, New York and Philadelphia Railroad Company, and a shareholder in the Buffalo Coal Company and the McKean and Buffalo Railroad Company. He was also a stockholder in several large manufacturing establishments in Buffalo. Read more at https://en.wikipedia.org/wiki/William_Fargo
The Northern Pacific Railway (reporting mark NP) was a transcontinental railroad that operated across the northern tier of the western United States, from Minnesota to the Pacific Northwest. It was approved by Congress in 1864 and given nearly 40 million acres (62,000 sq mi; 160,000 km2) of land grants, which it used to raise money in Europe for construction.
Construction began in 1870 and the main line opened all the way from the Great Lakes to the Pacific when former President Ulysses S. Grant drove in the final "golden spike" in western Montana on September 8, 1883. The railroad had about 6,800 miles (10,900 km) of track and served a large area, including extensive trackage in the states of Idaho, Minnesota, Montana, North Dakota, Oregon, Washington, and Wisconsin. In addition, the NP had an international branch to Winnipeg, Manitoba, Canada. The main activities were shipping wheat and other farm products, cattle, timber, and minerals; bringing in consumer goods, transporting passengers; and selling land. Read more at https://en.wikipedia.org/wiki/Northern_Pacific_Railway
Condition: Excellent
A stock certificate is issued by businesses, usually companies. A stock is part of the permanent finance of a business. Normally, they are never repaid, and the investor can recover his/her money only by selling to another investor. Most stocks, or also called shares, earn dividends, at the business's discretion, depending on how well it has traded. A stockholder or shareholder is a part-owner of the business that issued the stock certificates.
Item ordered may not be exact piece shown. All original and authentic.