Northern Pacific Railroad Co. issued to and signed by H. Villard
Inv# AG2173
Stock
Country: United States

State(s): New York

Years: 1893
Stock issued to and signed by H. Villard on back.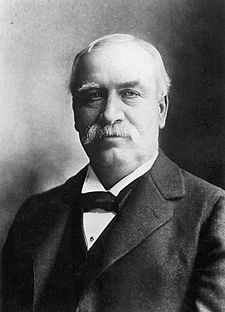 Henry Villard (1835-1900) An American journalist and financier of German origin.
He was born in Speyer, Rhenish, Bavaria. His baptismal name was Ferdinand Heinrich Gustav Hilgard. His parents moved to Zweibrücken in 1839, and in 1856 his father, Gustav Leonhard Hilgard (who died in 1867), became a justice of the Supreme Court of Bavaria, at Munich. Henry Villard was educated at a Gymnasium (equivalent of "high school") of Zweibrücken, at the French semi-military academy in Phalsbourg in 1849-50, at the Gymnasium of Speyer in 1850-52, and at the universities of Munich and Würzburg in 1852-53. In 1853, having had a disagreement with his father, he emigrated— without his parents' knowledge— to the United States.
It was at this time that he adopted the name Villard. Making his way westward in 1854, he lived in turn at Cincinnati, Belleville, Illinois, Peoria, Illinois and Chicago, did newpaper reporting and various jobs, and in 1856 attempted unsuccessfully to establish a colony of "free soil" Germans in Kansas. In 1856-57 he was editor, and for part of the time was proprietor, of the Racine Volksblatt, in which he advocated the election of John C. Fremont, a (Republican). Thereafter he was associated (in 1857) with the Staats-Zeitung, Frank Leslie's and the Tribune, of New York, and with the Cincinnati Commercial Gazette. He reported on the Lincoln-Douglas debates for the New York papers and was a battlefield correspondent during the Civil War.
At the close of the war he married, January 3, 1866, Helen Frances Garrison, the daughter of the anti-slavery campaigner, William Lloyd Garrison.
The fortune he made was not in journalism. During the Panic of 1873 he acted as agent for holders of Western railroad securities and soon turned to railroad financing as the economy recovered. The Pacific Northwest was the booming sector of American expansion. In Oregon Villard gained such a strong position in the transportation field that he was able to obtain a controlling interest in the Northern Pacific Railroad and became (1881) its president. Building the line across the Northern Rockies temporarily bankrupted him, but, refinanced, he bounced back. In New York he gained control of the New York Post and merged smaller companies to form the Edison General Electric Company, the forebear of General Electric and was its president until 1893.
On his passing in 1900, Henry Villard was interred in the Sleepy Hollow Cemetery in Sleepy Hollow, New York. His autobiography was published posthumously, in 1904.
Condition: Excellent
A stock certificate is issued by businesses, usually companies. A stock is part of the permanent finance of a business. Normally, they are never repaid, and the investor can recover his/her money only by selling to another investor. Most stocks, or also called shares, earn dividends, at the business's discretion, depending on how well it has traded. A stockholder or shareholder is a part-owner of the business that issued the stock certificates.
Item ordered may not be exact piece shown. All original and authentic.