Northern Pacific, La Moure and Missouri River Railroad Co. issued to and signed by Robert Harris and Geo. H. Earl
Inv# AG2116
Stock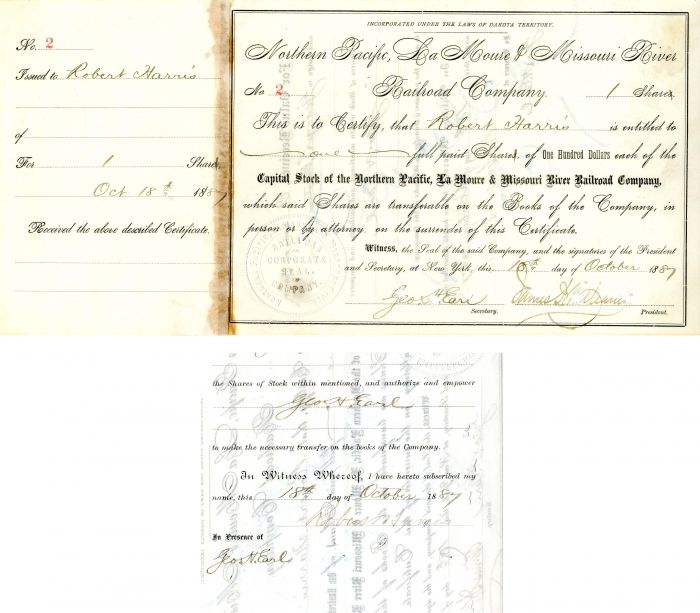 State(s): Dakotas

Years: 1887
Stock issued to and signed by Robert Harris on the back. Signed three times by Geo. H. Earl on front and back. Certificate #2!
Robert Harris (July 29, 1830 – April 21, 1894) was a civil engineer and railroad executive who became president of the Chicago, Burlington and Quincy Railroad and Northern Pacific Railway. Robert Harris was born on July 29, 1830, in Portsmouth, New Hampshire. His father was educator William Coffin Harris (born 1767) and mother was Mary Johnson. His brother Charles Coffin Harris (1822–1881) became the Chief Justice of the Supreme Court of the Kingdom of Hawaii. He studied civil engineering in Boston, and briefly studied law like his older brother. In 1852 Harris became assistant engineer for the Hartford, Providence and Fishkill Railroad (later the New York and New England Railroad). In April 1853 he moved to Wisconsin and was resident engineer for Beloit and Madison Railroad (later the Chicago and North Western Railway). From April 1856 to February 1860 he was superintendent of the Racine and Mississippi Railroad (later part of the Milwaukee Road system). In April 1860 he moved to Texas to become superintendent of the Galveston, Houston and Henderson Railroad. From November 1860 to June 1861 he was superintendent of the Buffalo Bayou, Brazos and Colorado Railway. During the American Civil War he worked for the Quartermaster's department of the Union Army in North Carolina. In July 1863 he became assistant general superintendent of the Chicago, Burlington and Quincy Railroad (CBQ) where he would work for 15 years. In May 1865 he became general superintendent, and in February 1876 he became president of CBQ until June 1878. In October 1878 he became general manager of the New York, Lake Erie and Western Railroad (NY&E). In December 1880 he became vice-president of NY&E until January 1884. On October 15, 1879, he had become a director of the Northern Pacific Railway (NP). Although offered the position of vice-president in 1881, he declined, and Thomas Fletcher Oakes took that position. After Henry Villard stepped down, he became president of NP in January 1884. In October 1888 he resigned, Oakes became president, and Harris Chairman of the Board. In 1893 he was re-elected to the board and named vice-president. He died April 21, 1894 in Rochester, New York, on his way back from a business meeting.
George H. Earl was a secretary of many Northern Pacific railroads including Duluth, Crookston and Northern Railroad, Duluth and Manitoba Railroad, Fargo and Southwestern Railroad, Helena and Jefferson County Railroad, Helena and Red Mountain Railroad, James River Valley Railroad, Jamestown and Northern Railroad, Little Falls and Dakota Railroad, Northern Pacific, Fergus and Black Hills Railroad, Northern Pacfic, La Moure and Missouri River Railroad, Rocky Mountain Railroad of Montana, Sanborn, Cooperstown and Turtle Mountain Railroad, and the Spokane and Palouse Railway.
Condition: Excellent
A stock certificate is issued by businesses, usually companies. A stock is part of the permanent finance of a business. Normally, they are never repaid, and the investor can recover his/her money only by selling to another investor. Most stocks, or also called shares, earn dividends, at the business's discretion, depending on how well it has traded. A stockholder or shareholder is a part-owner of the business that issued the stock certificates.
Item ordered may not be exact piece shown. All original and authentic.