Northern Pacific Express Co. Issued to and signed by Henry Villard, T.F. Oakes and Geo. H. Earl
Inv# AG2141
Stock
State(s): Minnesota

Years: 1889
Stock issued to Henry Villard and signed on back. Also signed by T.F. Oakes as president and Geo. H. Earl as secretary.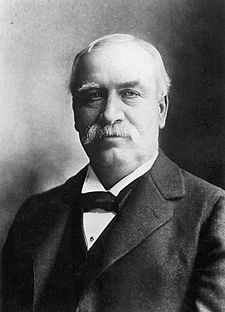 Henry Villard (1835-1900) an American journalist and financier of German origin.
He was born in Speyer, Rhenish, Bavaria. His baptismal name was Ferdinand Heinrich Gustav Hilgard. His parents moved to Zweibrücken in 1839, and in 1856 his father, Gustav Leonhard Hilgard (who died in 1867), became a justice of the Supreme Court of Bavaria, at Munich. Henry Villard was educated at a Gymnasium (equivalent of "high school") of Zweibrücken, at the French semi-military academy in Phalsbourg in 1849-50, at the Gymnasium of Speyer in 1850-52, and at the universities of Munich and Würzburg in 1852-53. In 1853, having had a disagreement with his father, he emigrated— without his parents' knowledge— to the United States.
It was at this time that he adopted the name Villard. Making his way westward in 1854, he lived in turn at Cincinnati, Belleville, Illinois, Peoria, Illinois and Chicago, did newpaper reporting and various jobs, and in 1856 attempted unsuccessfully to establish a colony of "free soil" Germans in Kansas. In 1856-57 he was editor, and for part of the time was proprietor, of the Racine Volksblatt, in which he advocated the election of John C. Fremont, a (Republican). Thereafter he was associated (in 1857) with the Staats-Zeitung, Frank Leslie's and the Tribune, of New York, and with the Cincinnati Commercial Gazette. He reported on the Lincoln-Douglas debates for the New York papers and was a battlefield correspondent during the Civil War.
At the close of the war he married, January 3, 1866, Helen Frances Garrison, the daughter of the anti-slavery campaigner, William Lloyd Garrison.
The fortune he made was not in journalism. During the Panic of 1873 he acted as agent for holders of Western railroad securities and soon turned to railroad financing as the economy recovered. The Pacific Northwest was the booming sector of American expansion. In Oregon Villard gained such a strong position in the transportation field that he was able to obtain a controlling interest in the Northern Pacific Railroad and became (1881) its president. Building the line across the Northern Rockies temporarily bankrupted him, but, refinanced, he bounced back. In New York he gained control of the New York Post and merged smaller companies to form the Edison General Electric Company, the forebear of General Electric and was its president until 1893.
On his passing in 1900, Henry Villard was interred in the Sleepy Hollow Cemetery in Sleepy Hollow, New York. His autobiography was published posthumously, in 1904.
Thomas Fletcher Oakes, railroad president, born in Boston July 16, 1843 came from old New England stock, his fathers, Francis Garaux Oakes being a shipmaster and his grandfather, Daniel Oakes, a soldier of the American Revolution. Educated in Boston, and well trained for an active career, he secured a position as clerk to the contractors engaged in the construction of The Kansas Pacific Railroad, and in June, 1863, entered the service of this corporation as purchasing agent in St. Louis. Having won the confidence of the officers of the road by conspicuous energy and ability, they advanced him through the positions of assistant treasurer, general freight agent and vice president to that of general superintendent. During this period, his home was in St. Louis and Kansas City. In April, 1879, he became general superintendent of The Kansas City, Fort Scott & Gulf and The Kansas City, Lawrence & Southern Railroads, but was called in May, 1880, to the responsible post of vice-president and general manager of The Oregon Railway & Navigation Co., with headquarters in Portland, Oregon. A year later, he identified himself with The Northern Pacific Railroad, was elected vice-president, and in November, 1883, general manager in addition. In 1888, Mr. Oakes became president of The Northern Pacific Railroad, and continued as such until October, 1893 - when having been made one of the receivers of the corporation, he retired from the presidency. His executive ability has been of great service to this important system. Mr. Oakes is a hard worker and a thoroughly trained and competent railroad man. He is a trustee of The Manhattan Life Insurance Co. of this city. In 1864, he married Abby R., daughter of Henry Haskell, and their children are Grace, Zillah, Georgiana and Prescott Oakes. Mr. Oakes resides at Mamaroneck, but is a member of the Metropolitan, Union League, New York Yacht and Riding clubs, and a life member of The American Geographical Society.
George H. Earl was a secretary of many Northern Pacific railroads including Duluth, Crookston and Northern Railroad, Duluth and Manitoba Railroad, Fargo and Southwestern Railroad, Helena and Jefferson County Railroad, Helena and Red Mountain Railroad, James River Valley Railroad, Jamestown and Northern Railroad, Little Falls and Dakota Railroad, Northern Pacific, Fergus and Black Hills Railroad, Northern Pacfic, La Moure and Missouri River Railroad, Rocky Mountain Railroad of Montana, Sanborn, Cooperstown and Turtle Mountain Railroad, and the Spokane and Palouse Railway.
Condition: Excellent
A stock certificate is issued by businesses, usually companies. A stock is part of the permanent finance of a business. Normally, they are never repaid, and the investor can recover his/her money only by selling to another investor. Most stocks, or also called shares, earn dividends, at the business's discretion, depending on how well it has traded. A stockholder or shareholder is a part-owner of the business that issued the stock certificates.
Item ordered may not be exact piece shown. All original and authentic.