North American Rockwell Overseas Corp. - $1,000 Bond - Aircraft, Defense and Space Industry
Inv# VB5003
Bond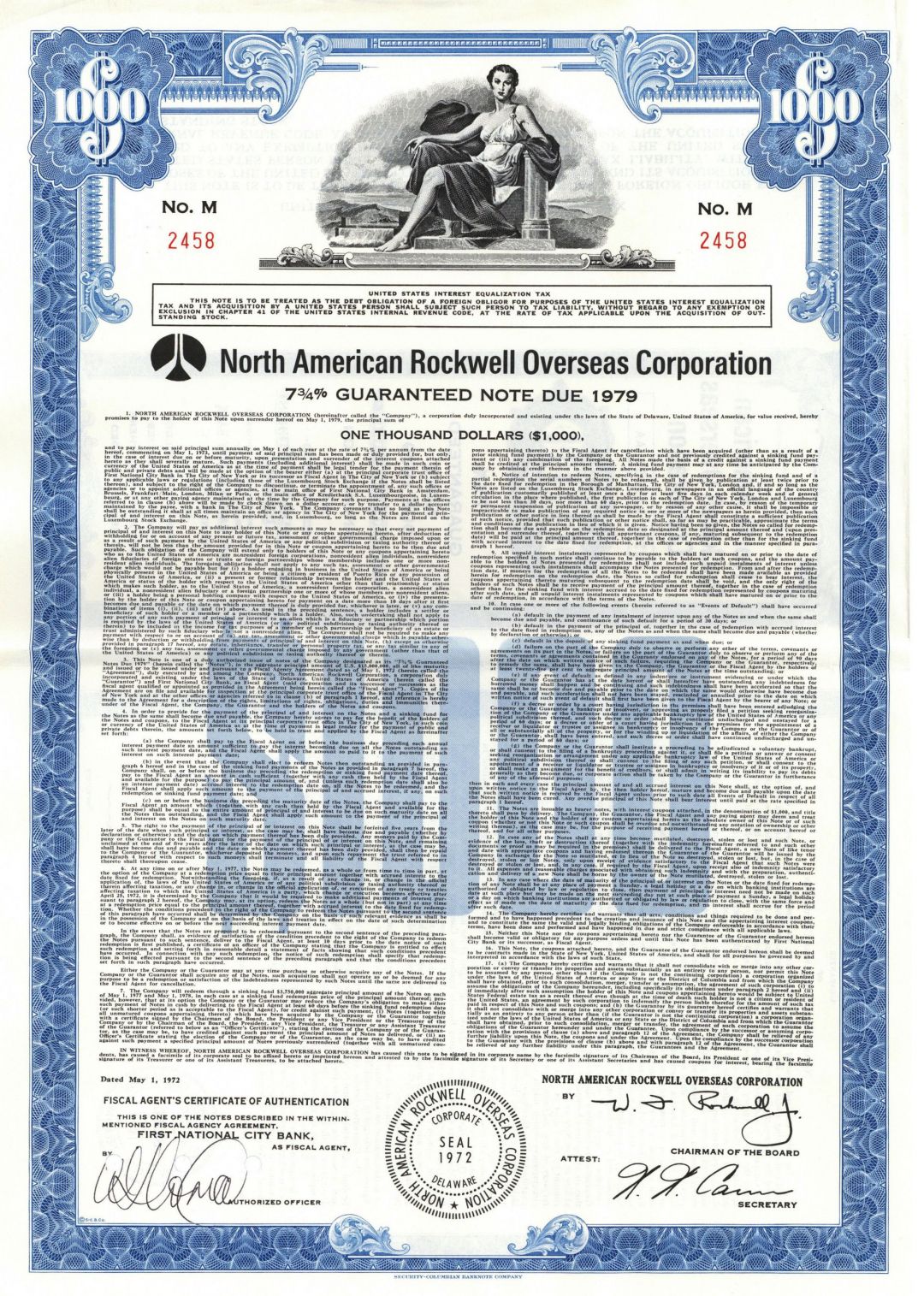 View Larger Image
State(s): Delaware

Years: 1972
Color: Green or Blue
$1,000 Aviation Bond. Female figure seated with mountains in background. Scarce!!! Available in Green or Blue. Please specify color.
Rockwell International was a major American manufacturing conglomerate involved in aircraft, the space industry, defense and commercial electronics, components in the automotive industry, printing presses, avionics and industrial products. Rockwell International's predecessor was 'Rockwell Manufacturing Company', founded in 1919 by Willard Rockwell.
In 1955, the rocket engine operations were spun off into a separate division as Rocketdyne. This division furnished engines for the Redstone, Jupiter, Thor, Delta, and Atlas missiles, and for NASA's Saturn family of launch vehicles. North American designed and built the airframe for the X-15, a rocket-powered aircraft that first flew in 1959.
In 1959, North American built the first of several Little Joe boosters used to test the launch escape system for the Project Mercury spacecraft. In 1960, the new CEO Lee Atwood decided to focus on the space program, and the company became the prime contractor for the Apollo command and service module, a larger Little Joe II rocket to test Apollo's launch escape system, and the S-II second stage of the Saturn V.
The fatal Apollo 1 fire in January 1967 was partly blamed on the company. In September, it merged with Rockwell-Standard, and the merged company became known as North American Rockwell. During this period the company continued its involvement with the Apollo program, building the Command and Service modules for all eleven missions. Within two years the new company also was studying concepts for the Space Shuttle, and won the orbiter contract in 1972. In 1973, the company changed its name again to Rockwell International and named its aircraft division North American Aircraft Operations.
Rockwell International's defense and space divisions (including the North American Aviation divisions Autonetics and Rocketdyne) were sold to Boeing in December 1996. Initially called Boeing North American, these groups were integrated with Boeing's Defense division. Rocketdyne was eventually sold by Boeing to UTC Pratt & Whitney in 2005. UTC later sold Rocketdyne to Aerojet (GenCorp) in 2013.
In 1968 Rockwell Manufacturing Company included 7 operating divisions manufacturing industrial valves, German 2-cycle motors, power tools, gas and water meters. In 1973 it was combined with the aerospace products and renamed Rockwell International. At its peak Rockwell International was No. 27 on the Fortune 500 list, with assets of over $8 billion, sales of $27 billion and 115,000 employees.
Boston-born Willard Rockwell (1888–1978) made his fortune with the invention and successful launch of a new bearing system for truck axles in 1919. He merged his Oshkosh, Wisconsin-based operation with the Timken-Detroit Axle Company in 1928, rising to become chairman of its board in 1940.
In 1945, Rockwell Manufacturing Company acquired Delta Machinery and renamed it the Delta Power Tool Division of Rockwell Manufacturing Company and continued to manufacture in Milwaukee. In 1966, Rockwell invented the world's first power miter saw. In 1981, Rockwell's power tool group was acquired by Pentair and re-branded Delta Machinery. Pentair's Tools group was acquired by Black & Decker in 2005. Since 1994, Rockwell power tools are now manufactured by Positec Tool Corporation. Read more at https://en.wikipedia.org/wiki/Rockwell_International or https://en.wikipedia.org/wiki/North_American_Aviation#Merger_and_acquisition
Condition: Excellent
A bond is a document of title for a loan. Bonds are issued, not only by businesses, but also by national, state or city governments, or other public bodies, or sometimes by individuals. Bonds are a loan to the company or other body. They are normally repayable within a stated period of time. Bonds earn interest at a fixed rate, which must usually be paid by the undertaking regardless of its financial results. A bondholder is a creditor of the undertaking.
Item ordered may not be exact piece shown. All original and authentic.