Norristown Woolen Co. - Stock Certificate
Inv# AN1003
Stock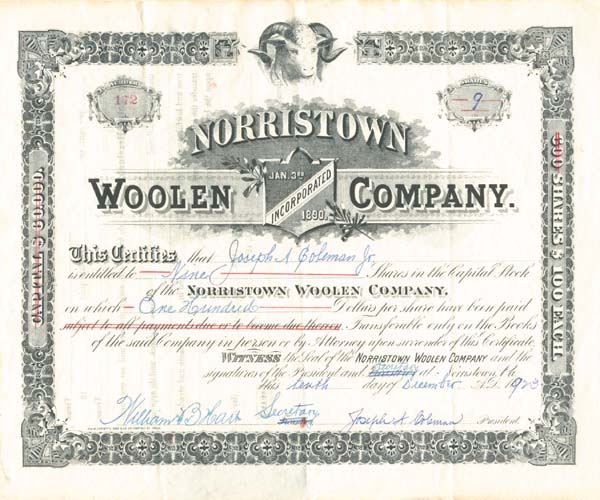 State(s): Pennsylvania

Years: 1907-28
Printed by Wm. M. Christy's Sons & Co. Great Ram!
Norristown is a municipality (with home rule status) and the county seat of Montgomery County, Pennsylvania in the Philadelphia metropolitan area. Located along the Schuylkill River approximately 6 miles (9.7 km) from the Philadelphia city limits, Norristown has a population of 34,324 as of the 2010 U.S. Census. It is the fourth most populous municipality in the county and second most populous borough in Pennsylvania. It is the largest non-township municipality in Montgomery County.
The area where Norristown sits was originally owned by the family of Isaac Norris. Along with William Trent, Norris purchased the land on October 7, 1704 for 50¢ per acre. In 1712, Norris acquired Trent's share and established a gristmill at the foot of present-day Water Street.
Named the county seat in 1784 when Montgomery County was formed, Norristown was incorporated as a borough in 1812 and subsequently enlarged in 1853. About 500 people lived there at the time of its incorporation. Growing rapidly after the Civil War, it swelled to 22,265 people by 1900. By 1940 it was home to 38,181 Norristonians, making it the most populous borough in Pennsylvania before declining in the decades after World War II, and in fact it was described in that year as "the most populous independent borough in the United States."
At its height, Norristown was an industrial, retail, banking, and government center. Breweries, cigar factories, textile mills, icehouses, foundries, rolling mills, and lumber yards provided ample employment for skilled laborers and artisans. The downtown featured two department stores, several theaters, and enough goods and services that residents never had to leave town to find anything they needed. Although primarily settled by the English and a handful of Germans, Scots, Dutch, and Swedes, in the mid-1800s the Irish began arriving in large numbers, followed by waves of Italians at the turn of the century.
With the opening of new malls in nearby King of Prussia and Plymouth Meeting, the downtown declined in the decades after World War II. Industry soon followed, as many companies closed or relocated into new industrial parks throughout Montgomery County. Efforts to revitalize and reshape itself as a 21st-century community have produced minimal results.
A stock certificate is issued by businesses, usually companies. A stock is part of the permanent finance of a business. Normally, they are never repaid, and the investor can recover his/her money only by selling to another investor. Most stocks, or also called shares, earn dividends, at the business's discretion, depending on how well it has traded. A stockholder or shareholder is a part-owner of the business that issued the stock certificates.
Item ordered may not be exact piece shown. All original and authentic.