New York State Thruway Authority - Specimen State Guaranteed Thruway Bond
Inv# SE1403
Specimen Bond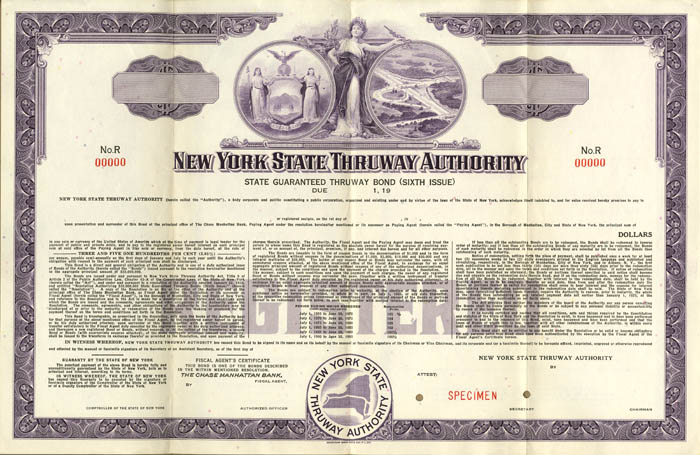 Country: United States

State(s): New York

Years: 1965
Color: Purple
Specimen State Guaranteed Thruway Bond. The New York State Thruway Authority (NYSTA) is a public benefit corporation in New York State, United States. The NYSTA was formed in 1950 with the responsibility of constructing, maintaining, and operating the New York State Thruway, a system of limited-access highways within the state.
In August 2017, Matthew J. Driscoll was appointed by Governor Andrew Cuomo as the Acting Executive Director of the New York State Thruway Authority. The executive officers report to a 6-member board of directors. In 2017, the authority had operating expenses of $872.17 million, an outstanding debt of $8.827 billion, and a staffing level of 3,754 people.
The authority operates without financial assistance from the state of New York. All debt is paid for through tolls and fees. Read more at https://en.wikipedia.org/wiki/New_York_State_Thruway_Authority
Condition: Excellent
Stock and Bond Specimens are made and usually retained by a printer as a record of the contract with a client, generally with manuscript contract notes such as the quantity printed. Specimens are sometimes produced for use by the printing company's sales team as examples of the firmís products. These are usually marked "Specimen" and have no serial numbers.
Item ordered may not be exact piece shown. All original and authentic.