Mahoning Coal Railroad Company signed by Edward S. Harkness - Stock Certificate
Inv# AG1929
Stock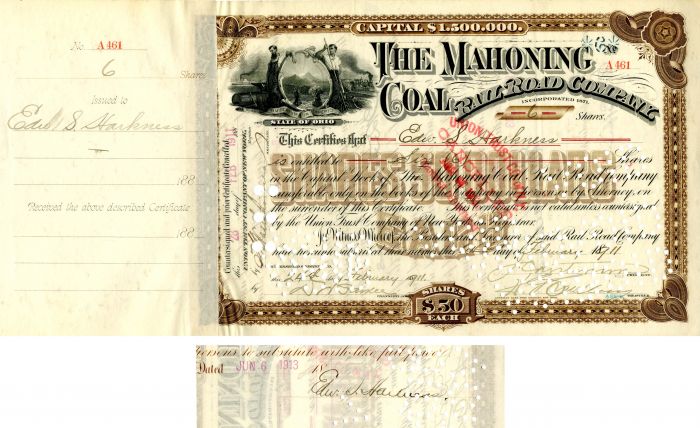 State(s): Ohio

Years: 1902 or 1911
Stock issued to and signed on back by Edw. S. Harkness. Rare!
Edward S. Harkness (1874-1940) Edward Stephen Harkness (January 22, 1874 – January 29, 1940) was an American philanthropist. Given privately and through his family's Commonwealth Foundation, Harkness' gifts to private hospitals, art museums, and educational institutions in the Northeastern United States were among the largest of the early twentieth century. His was a major benefactor to the Columbia University, Yale University, Harvard University, Phillips Exeter Academy, St. Paul's School, and the Metropolitan Museum of Art. Harkness inherited his fortune from his father, Stephen V. Harkness, whose wealth was established by an early investment in Standard Oil, and his brother, Charles W. Harkness. In 1918, he was ranked the 6th-richest person in the United States by Forbes magazine's first "Rich List", behind John D. Rockefeller, Henry Clay Frick, Andrew Carnegie, George Fisher Baker, and William Rockefeller. Harkness was born in Cleveland, Ohio, one of four sons of Anna M. Harkness and Stephen V. Harkness, a harness-maker who invested in and was one of the five founding partners in the forerunner of Standard Oil, John D. Rockefeller's oil company. Stephen Harkness died when Edward was fourteen, leaving his wife and oldest son, Charles, to manage the estate. Harkness attended St. Paul's School and Yale College, Class of 1897 and Columbia Law School. Harkness, his brother Charles, and cousin William were members of Wolf's Head Society at Yale. After graduating, Edward Harkness married Mary Stillman, daughter of wealthy New York attorney Thomas E. Stillman, in 1904. Mary's maternal grandfather was George Greenman, a shipbuilder in Mystic, Connecticut, who founded George Greenman & Co. Harkness' mother gave the couple a new Italian Renaissance mansion on the Upper East Side as a wedding present. As the building's architect, Harkness chose his classmate James Gamble Rogers, who would later design many of his philanthropic building projects. The home, at 75th Street and 5th Avenue and now known as the Edward S. Harkness House, became the headquarters of Harkness' Commonwealth Fund after Mary's death. Harkness briefly served as a railroad director for the Southern Pacific Railroad, but within several years decided to become a full-time philanthropist. He began making gifts to the Egyptian collection at the Metropolitan Museum of Art in New York in 1912, and that same year was appointed to the museum's Board of Trustees. Harkness' older brother Charles died in 1916 at age 55, leaving Edward more than US$80 million, much of it in Standard Oil stock. Charles had continued to invest substantially in Standard Oil as manager of the family fortune, and his brother's estate made Harkness the third-largest stakeholder in Standard Oil.
Condition: Excellent
A stock certificate is issued by businesses, usually companies. A stock is part of the permanent finance of a business. Normally, they are never repaid, and the investor can recover his/her money only by selling to another investor. Most stocks, or also called shares, earn dividends, at the business's discretion, depending on how well it has traded. A stockholder or shareholder is a part-owner of the business that issued the stock certificates.
Item ordered may not be exact piece shown. All original and authentic.