Little Miami Railroad Company issued to and signed by Andrew Jackson - Stock Certificate
Inv# AG2222
Stock
State(s): Ohio

Years: 1879
Stock issued to and signed on back by Andrew Jackson. Possibly a distant relative of President Andrew Jackson?
Andrew Jackson (1767-1845) Seventh President of the United States (1829–1837). He was also military governor of Florida (1821), commander of the American forces at the Battle of New Orleans (1815), a founder of the modern Democratic Party. He was a polarizing figure who dominated American politics in the 1820's -30's. Nicknamed "Old Hickory" because he was renowned for his toughness, Jackson was the first President primarily associated with the frontier. Jackson was the last U.S. President to have been a veteran of the American Revolution, and the only President to have been a prisoner of war.
Jackson  was elected as Tennessee's first Congressman, upon its statehood in the late 1790s, and quickly became a U.S. Senator in 1797 but resigned within a year. In 1798, he was appointed judge on the Tennessee Supreme Court. He became a colonel in the Tennessee militia, which he had led since the beginning of his military career in 1801. In the Creek War, a theatre of the War of 1812, Jackson defeated the Red Stick Creeks at the Battle of Horseshoe Bend. 800 Northern Creek Band "Red Sticks" Indians were massacred. Jackson spared Weatherford's life from any acts of vengeance. Sam Houston and David Crockett, later to become famous themselves in Texas, served under Jackson at this time. Following the victory, Jackson imposed the Treaty of Fort Jackson upon both his Northern Creek enemy and Southern Creek allies, wresting 20 million acres from all Creeks for white settlement.
Jackson allied himself with Vice President John C. Calhoun, Martin Van Buren, and former supporters of William H. Crawford; together they built a coalition that handily defeated the reelection of John Quincy Adams in 1828. His supporters called themselves "Jackson Men," or Jacksonians.
A notable crisis during Jackson's period of office was the "nullification crisis," or "secession crisis," of 1828 – 1832, which merged issues of sectional strife with disagreements over tariffs. Critics alleged that high tariffs on imports of common manufactured goods made in Europe made those goods more expensive than ones from the northern U.S., thus raising the prices paid by planters in the South. Southern politicians thus argued that tariffs benefited northern industrialists at the expense of southern farmers. The issue came to a head when Vice President John C. Calhoun, in the South Carolina Exposition and Protest of 1828, supported the claim of his home state, South Carolina, that it had the right to "nullify"—declare illegal—the tariff legislation of 1828, and more generally the right of a state to nullify any Federal laws which went against its interests. Although Jackson sympathized with the South in the tariff debate, he was also a strong supporter of a strong union, with considerable powers for the central government. Jackson attempted to face down Calhoun over the issue, which developed into a bitter rivalry between the two men. Particularly infamous was an incident at the April 13, 1830 Jefferson Day dinner, involving after-dinner toasts. Jackson rose first and voice booming, and glaring at Calhoun, yelled out "Our federal Union: IT MUST BE PRESERVED!", a clear challenge to Calhoun. Calhoun glared at Jackson and yelled out, his voice trembling, but booming as well, "The Union: NEXT TO OUR LIBERTY, MOST DEAR!" The next year, Calhoun and Jackson broke apart from one another, the first time a US President and US Vice-President had ever done so, and Calhoun resigned in 1832 to serve as a US Senator in South Carolina.
After retiring to Nashville, he enjoyed eight years of retirement and died at the Hermitage on June 8, 1845 at the age of 78, of chronic tuberculosis, "dropsy" and heart failure.
Planning only on staying for a short while before resuming his relocation plans, he decided to stay and spent the remainder of his life in Cincinnati. He started his business and married Olivia Norris in 1833. At his father-in-law Alexander Norris's suggestion, he joined forces in 1837 with his brother-in-law, James Gamble, to establish the company that bears their names. The company began to manufacture Ivory soap and profits grew to enormous proportions.
His son William Alexander Procter and grandson William Cooper Procter were company presidents.
Procter is buried in Spring Grove Cemetery, as is his business partner, James Gamble.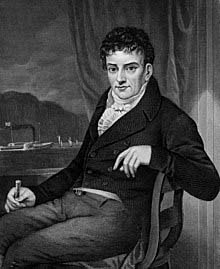 James Gamble (1803-1891) was a U.S.-based Irish soapmaker and industrialist. He was the co-founder and co-eponym of Procter & Gamble Company in 1837, along with William Procter.
The future business partner of James Gamble was William Procter who married Olivia Norris, sister of Elizabeth Ann Norris. The pair's father-in-law, Alexander Norris, first suggested that the two go into business together in 1837 and consequently Procter & Gamble was born.
James Gamble was born near Enniskillen, Ireland and went to Portora Royal School. After graduating from Kenyon College in 1824 (as a member of Delta Kappa Epsilon, Lambda chapter). James Gamble and Elizabeth Ann Norris Gamble bore ten children. One of whom was James Norris Gamble (born August 9, 1836 in Cincinnati, Ohio). He eventually became Vice President of Proctor & Gamble and was the chemist who devised the formula for Ivory soap. He married Margaret Penrose. James Norris Gamble died in his sleep on July 2, 1932 in Cincinnati, Ohio and is interred in Spring Grove Cemetery located in Cincinnati, Ohio.
The son of James Norris Gamble, William, married Franzeska Wilhelmina (Fanny) Nast, the daughter of the Rev. William Nast, a German-American Methodist preacher. Fanny was the first woman to graduate from German Wallace College in Berea, Ohio.
James Norris Gamble is interred in Spring Grove Cemetery located in Cincinnati, Ohio.
Condition: Excellent
A stock certificate is issued by businesses, usually companies. A stock is part of the permanent finance of a business. Normally, they are never repaid, and the investor can recover his/her money only by selling to another investor. Most stocks, or also called shares, earn dividends, at the business's discretion, depending on how well it has traded. A stockholder or shareholder is a part-owner of the business that issued the stock certificates.
Item ordered may not be exact piece shown. All original and authentic.