Leland Stanford signed Bodie Bluff Consolidation Mining Co. - Autographed Stock Certificate
Inv# AG2522
Stock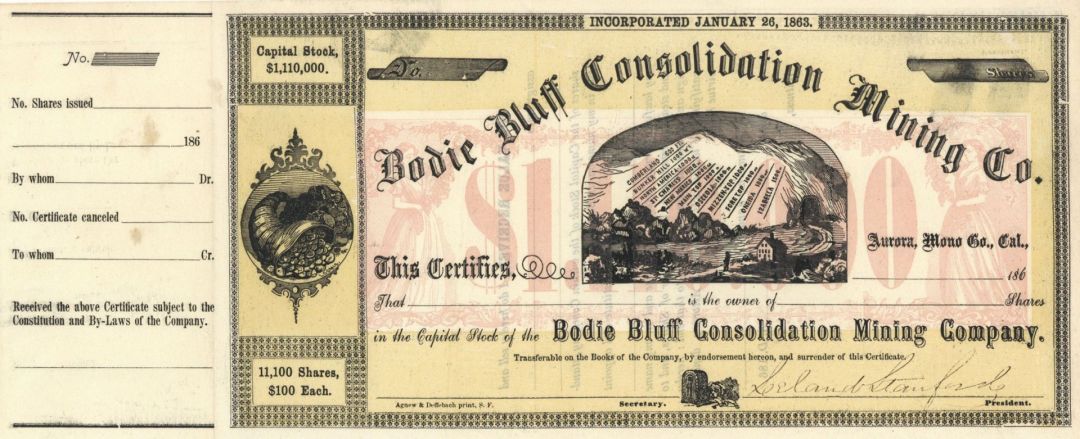 View Larger Image
State(s): California

Years: 186-
Unissued Mining Stock signed by Leland Stanford.
Leland Stanford (1824-1893) An American business tycoon, politician and founder of Stanford University.
In 1852, having lost his law library and other property by fire, he moved to California and began mining for gold at Michigan Bluff in Placer County, California. He subsequently went into in business with his three brothers, who had preceded him to the Pacific coast. During this time he worked with his brothers as keeper of a general store for miners, served as a Justice of the Peace and helped organize the Sacramento Library Association, which later became the Sacramento Public Library. In 1856 he moved to San Francisco and engaged in mercantile pursuits on a large scale.
He was a delegate to the 1860 Republican National Convention. As one of The Big Four, he cofounded and was made president of the Central Pacific Railroad company in 1861.
As president of the Central Pacific, he superintended its construction over the mountains, building 530 miles in 293 days. As head of the railroad company which built the first transcontinental railway line over the Sierra Nevada, Stanford hammered in the famous golden spike on May 10, 1869.
In 1872 Stanford commissioned Eadweard Muybridge to use newly invented photographic technology to establish whether galloping horses ever lift all four hooves off the ground. (The verdict, by the way, was that horses do lift all four hooves off the ground.) This project was a forerunner of motion picture technology.
Stanford served as president of Southern Pacific Railroad from 1885 to 1890, and while continuing to serve as the head of the Central Pacific Railroad until his death in 1893. As a railroad developer, Stanford encouraged Chinese immigration to find workers for the railroad construction. However, when jobs were scarce, Stanford made them a scapegoat. Stanford encouraged the California legislature to pass taxes and unfair regulations which specifically targeted Chinese.
Stanford, a member of the Republican Party, was politically active. He was the eighth Governor of California. During his gubernatorial tenure, he cut the state's debt in half, and advocated for the conservation of forests. Following Stanford's service, the term for governorship changed from two years to four years, in line with legislation passed during his time in office. He later served slightly more than one term in the United States Senate, from 1885 until his death in 1893 at age 69. 
Condition: Excellent
A stock certificate is issued by businesses, usually companies. A stock is part of the permanent finance of a business. Normally, they are never repaid, and the investor can recover his/her money only by selling to another investor. Most stocks, or also called shares, earn dividends, at the business's discretion, depending on how well it has traded. A stockholder or shareholder is a part-owner of the business that issued the stock certificates.
Item ordered may not be exact piece shown. All original and authentic.