Lactroid Company signed by August Belmont, Jr. and Isaac L. Rice - Stock Certificate
Inv# AG1811
Stock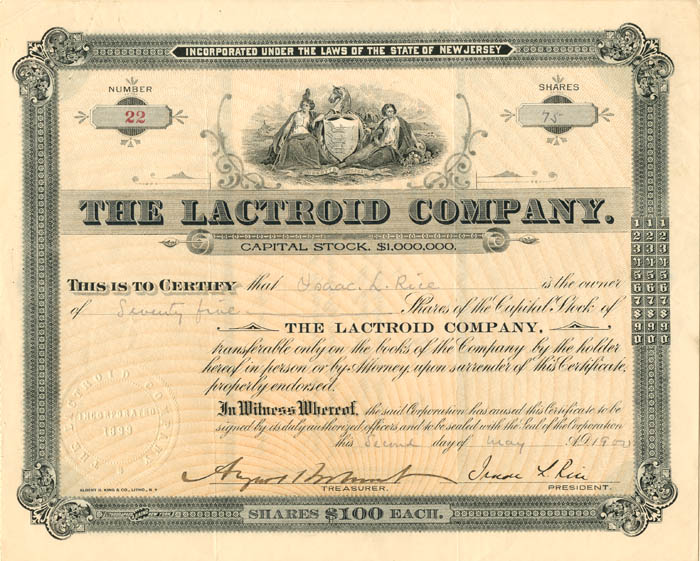 State(s): New Jersey

Years: 1900
Stock signed by August Belmont, Jr. as treasurer and Isaac L. Rice as president. Rice also signs on the back. Portrait and biography included.
August Belmont (1813-1890) August Belmont, Sr. immigrated to New York City in 1837 after becoming the American representative of the Rothschild family's banking house in Frankfurt. He attended the Jewish Junior and Senior High School in Frankfurt until he began his apprentice for the Rothschild's. He would sweep floors, polish furniture, and run errands for the Rothschild's, while also studying English, arithmetic, and writing. During the Panic of 1837, nearly 250 businesses, including the Rothschild agents, had collapsed. As a result, Belmont began the August Belmont & Company, believing that he could replace the defunct American Agency with his company. It was an instant success, and Belmont was able to straighten out the Rothschild interests in the United States between 1837 and 1842. In 1844, Belmont was named the consul-general of Austria at New York in an attempt to strengthen his business position. He resigned in 1850 in response to what he viewed as Austria's cruel treatment of Hungary. After marrying Caroline Slidell Perry on November 7, 1849 as well as becoming a U.S. citizen, his wife's uncle John Slidell became interested in Belmont, a Democrat, unlike most of his business acquaintances, saw him as an able and enthusiastic protégé. Belmont was originally asked by Slidell to campaign for James Buchanan. Belmont accepted, although Franklin Pierce ended up winning the nomination. Belmont later supported Pierce and gave him large contributions despite being on the receiving end of political attacks. After Pierce's victory in the 1852 election, he appointed Belmont chargé d'affaires for the United States, as well as the American minister at the same place due to his generous contributions to Pierce's campaign. As a delegate to the Democratic Convention of 1860, he supported Stephen A. Douglas. He was named the Chairman of the Democratic National Committee the same year in Baltimore. He energetically supported the Union cause during the Civil War, and exerted a strong influence in favour of the North upon the merchants and financiers of England and France. An avid sportsman, the famed Belmont Stakes thoroughbred horse race is named in his honor. Also named in his honor is the town of Belmont, New Hampshire - an honor Mr. Belmont never acknowledged. He died in New York in 1890 and a volume entitled Letters, Speeches and Addresses of August Belmont (the elder) was published at New York. He left between 10 and 50 million dollars for his wife and children.
Isaac Leopold Rice (1850-1915) Isaac Leopold Rice (February 22, 1850 in Wachenheim, Bavaria – November 2, 1915) was a U.S. inventor and a chess patron and author. Born in Germany, Rice emigrated to the United States in the second half of the 19th century to the USA. He was educated at the Central High School in Philadelphia. He graduated in 1880 from Columbia Law School with the degree of LL.B. In 1902 he received from Bates College the degree of LL.D. He practiced as an attorney specializing in corporate law and patents. In 1899 Rice founded the Electric Boat Company in order to build to completion John Philip Holland's designs for the first United States Navy submarine, the "Holland VI". The Holland VI was purchased by the United States government on 11 April 1900 and commissioned for Navy service 12 October 1900 with the initial designation of USS Holland Template: WP Ships USS instances and the subsequent designation of SS-1. This was the United States Navy's first submarine. This pioneering submarine was the catalyst in the creation of the Electric Boat Company founded on 07 February 1899. During World War I, Rice's company (Electric Boat) and its subsidiaries built 85 Navy submarines and 722 submarine chasers. Electric Boat is the parent company to General Dynamics Corporation and is this company's "Cold War" progeny. An enthusiastic chess player, Rice invented the Rice Gambit and sponsored tournaments where the opening became the starting point of each game. Emanuel Lasker and Mikhail Chigorin were two of many players who contested these tournaments, with bonus prizes for white wins. In 1904 he formed the Rice Gambit Association, which published a detailed analysis of the effects of the move.
Condition: Excellent
A stock certificate is issued by businesses, usually companies. A stock is part of the permanent finance of a business. Normally, they are never repaid, and the investor can recover his/her money only by selling to another investor. Most stocks, or also called shares, earn dividends, at the business's discretion, depending on how well it has traded. A stockholder or shareholder is a part-owner of the business that issued the stock certificates.
Item ordered may not be exact piece shown. All original and authentic.