John Guy Vassar - Michigan Southern and Northern Indiana Railroad Co.
Inv# AG1674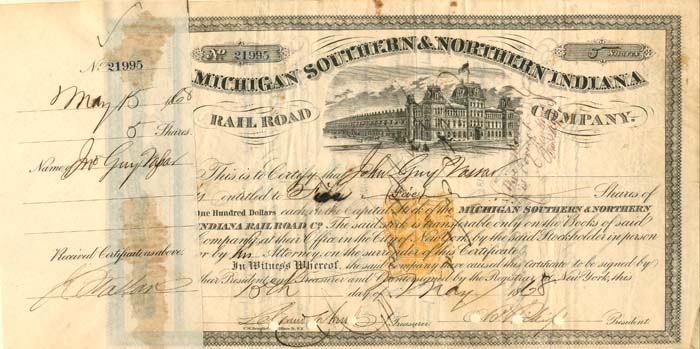 State(s): Michigan

Years: 1868
Stock signed by John Guy Vassar on the back. John Guy Vassar is the nephew to Matthew Vassar, businessman, philanthropist, and world traveler. Raised by his uncle, John Guy became a partner in M. Vassar & Co. in 1832 but fell ill seven years later and began his travels. In 1862, he published his "Twenty Years Around the World", claiming to have "visited more countries, and traveled over more surface than any man who ever existed". A wise investor, John Guy Vassar funded the construction of various institutions with the help of his brother, Matthew Vassar, Jr. The last of these, The Vassar Brothers Hospital, was erected after his brother's death. John Guy died in 1888. Rare!
Condition: Excellent
Item ordered may not be exact piece shown. All original and authentic.