Jersey City and Bayonne Railroad Co. signed by Frederick W. Vanderbilt - Stock Certificate - SOLD
Inv# AG1994
Stock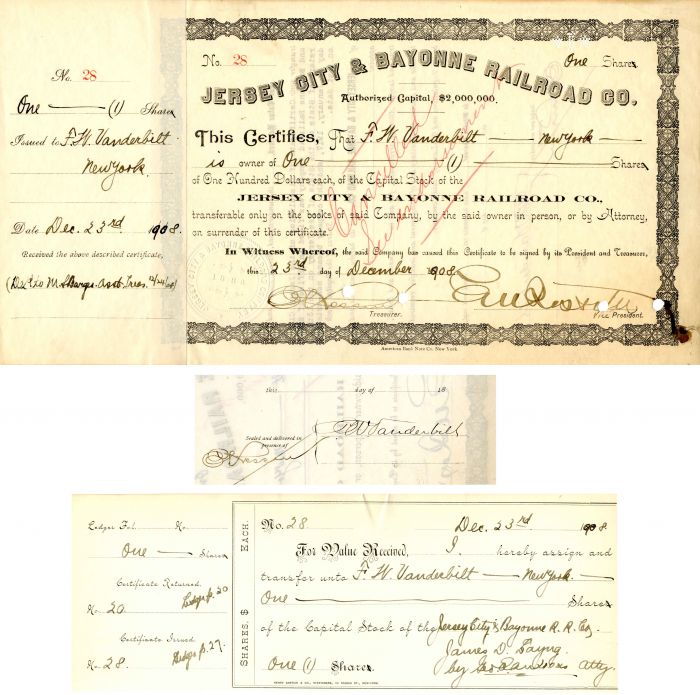 State(s): New York

Years: 1908
Stock issued to and signed on back by F.W. Vanderbilt. Also included are 2 share receipts. 1 is shown.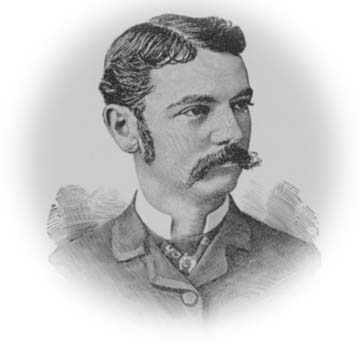 Frederick W Vanderbilt was the seventh of eight children born to William Henry Vanderbilt and the grandson of Cornelius Vanderbilt, founder of the New York Central Railroad. At age 22, he had been installed on the board of directors of the New York Central Railroad, one of several positions he would hold for much of his life. Frederick attended the Sheffield Scientific School at Yale University, graduating in 1878. The same year, he married Louise Anthony Torrance, an act that caused consternation within his family — and society as a whole — because Louise was 12 years older and recently divorced from Frederick's first cousin. Against his father's wishes, the couple eloped. By all accounts, the couple had a happy and successful marriage. Louise eventually won her way into the good graces of the family. The couple had no children. Little is known of the couple's personal life, as they were extremely private members of a very public family. Frederick was the only one of his siblings to increase his inherited fortune. Eventually, he participated in the operation of dozens of railroads and was for a time heavily invested in Western Union. The couple maintained many residences, traveling between New York City townhouses and country estates they either owned or rented. At times, they lived in Paris, Bar Harbor, Maine, the Adirondacks, Newport, R.I., and Hyde Park. Only their home on the Hudson seemed to have any hold. They continued to make improvements and increase their time at the estate each year. Louise Vanderbilt died in 1926 while in Paris. Frederick lived in Hyde Park until his death in 1938. His fortune of nearly $80 million was dispersed to pay estate taxes, fund charities, remember a favorite niece and leave some money to employees of the Hyde Park estate.
Frederick William Vanderbilt (February 2, 1856 – June 29, 1938) was a member of the American Vanderbilt family. He was a director of the New York Central Railroad for 61 years, and also a director of the Pittsburgh and Lake Erie Railroad and of the Chicago and North Western Railroad.
Vanderbilt was born on February 2, 1856 in New Dorp, Staten Island. He was the third son of eight children born to William Henry Vanderbilt (1821–1885) and Maria Louisa (née Kissam) Vanderbilt (1821–1896). His siblings were Cornelius Vanderbilt II, who married Alice Claypoole Gwynne; Margaret Louisa Vanderbilt, who married Elliott Fitch Shepard; William Kissam Vanderbilt, who married Alva Erskine Smith and Anne Harriman Sands Rutherfurd; Emily Thorn Vanderbilt, who married William Douglas Sloane and Henry White; Florence Adele Vanderbilt, who married Hamilton McKown Twombly; Eliza Osgood Vanderbilt, who married William Seward Webb; and George Washington Vanderbilt II, who married Edith Stuyvesant Dresser.
He was the grandson of Commodore Cornelius Vanderbilt, who first created the Vanderbilt family wealth. Upon his grandfather's death in 1877, 95% of the $100 million estate was left to his father and his three brothers ($5 million to Cornelius, and $2 million apiece to William, Frederick, and George).
In 1876, Vanderbilt graduated from Yale University's Sheffield Scientific School, to which he later donated $500,000 (equivalent to $14,775,000 today) in 1902.
After graduating from Yale, he joined his father at the New York Central Railroad, like his brothers, working in one department after another to gain an understanding of the railroad business. After working for many years at the railroad, he devoted his time to travel and yachting.
Vanderbilt was a director of 22 railroads, including New York Central Railroad, the Pittsburgh and Lake Erie Railroad, and the Chicago and North Western Railroad.
Vanderbilt maintained residences in New York City (he lived for a while at 450 Fifth Avenue), Newport ("Rough Point"), Bar Harbor ("Sonogee"), Upper St. Regis Lake in the Adirondacks ("Pine Tree Point"), and a country palace in Hyde Park, New York ("Hyde Park") now preserved by the National Park Service as Vanderbilt Mansion National Historic Site. He built the nearby Howard Mansion and Carriage House for his nephew Thomas H. Howard in 1896.
Vanderbilt was the owner of 10 East 40th Street in Manhattan, a prominent example of art deco architecture, until his death; he also owned the steam yachts Vedette, Conqueror and Warrior. He commissioned a number of campus buildings at Yale University by architect Charles C. Haight that survive to this day, from campus dormitories comprising the present-day Silliman College, to Vanderbilt Hall, Phelps Hall, the Mason, Sloane and Osborn laboratories, and his secret society, St. Anthony Hall.
In 1878, Frederick married Louise Holmes Torrance (née Anthony) (1854–1926), the daughter of Charles Lee Anthony and Catherine (née Holmes) Anthony. Louise's father was a successful dry-goods merchant in New York City. Louise had been previously married, in 1868, to Frederick's cousin Alfred Torrance, before their divorce in 1877.
Frederick Vanderbilt died in Hyde Park, New York on June 29, 1938. He was buried at Moravian Cemetery in New Dorp. His estate was valued at $79,845,478 (equivalent to $1,387,902,279 today) upon his death. He left $5,200,000 to the Sheffield Scientific School, $3,900,000 to Vanderbilt University, $1,300,000 to the Salvation Army, and $650,000 to the New York Association for Improving the Condition of the Poor. After his charitable donations, his niece, Mrs. Margaret Louise Van Alen (1876–1969), was the chief heir of his estate, receiving his 5th Avenue home, Hyde Park home, and 25% of the residue of the estate.
Condition: Excellent
A stock certificate is issued by businesses, usually companies. A stock is part of the permanent finance of a business. Normally, they are never repaid, and the investor can recover his/her money only by selling to another investor. Most stocks, or also called shares, earn dividends, at the business's discretion, depending on how well it has traded. A stockholder or shareholder is a part-owner of the business that issued the stock certificates.
Item ordered may not be exact piece shown. All original and authentic.