J. Pierpont Morgan signed 1896 Proxy for the St. Louis Bridge Co. - Autograph
Inv# AG1892B
Autograph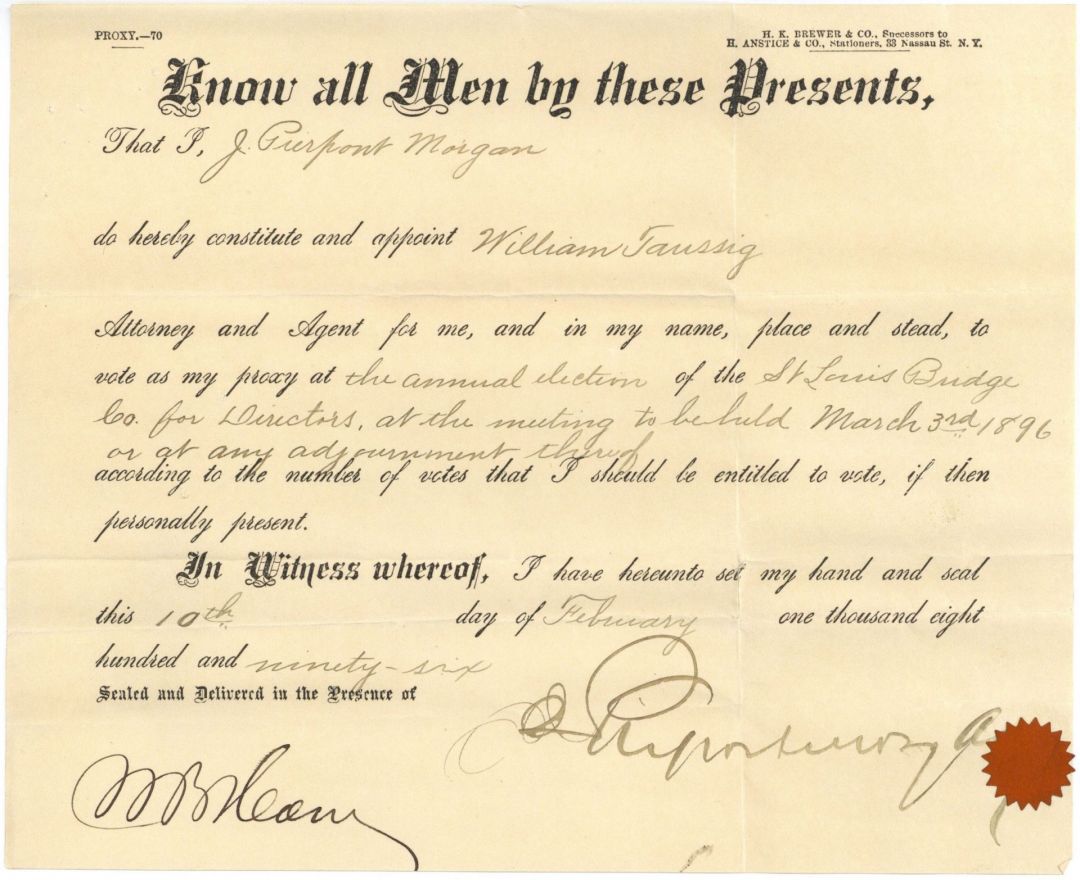 View Larger Image
State(s): Illinois

Years: 1896
J. Pierpont Morgan signed 1896 Proxy for the St. Louis Bridge Company.
John Pierpont Morgan Sr. (April 17, 1837 – March 31, 1913) was an American financier and investment banker who dominated corporate finance on Wall Street throughout the Gilded Age. As the head of the banking firm that ultimately became known as J.P. Morgan and Co., he was the driving force behind the wave of industrial consolidation in the United States spanning the late 19th and early 20th centuries.
Over the course of his career on Wall Street, Morgan spearheaded the formation of several prominent multinational corporations including U.S. Steel, International Harvester and General Electric which subsequently fell under his supervision. He and his partners also held controlling interests in numerous other American businesses including Aetna, Western Union, Pullman Car Company and 21 railroads. Due to the extent of his dominance over U.S. finance, Morgan exercised enormous influence over the nation's policies and the market forces underlying its economy. During the Panic of 1907, he organized a coalition of financiers that saved the American monetary system from collapse.
As the Progressive Era's leading financier, Morgan's dedication to efficiency and modernization helped transform the shape of the American economy. Adrian Wooldridge characterized Morgan as America's "greatest banker". Morgan died in Rome, Italy, in his sleep in 1913 at the age of 75, leaving his fortune and business to his son, John Pierpont Morgan Jr. Biographer Ron Chernow estimated his fortune at $80 million (equivalent to $2.4 billion in 2022). Read more at https://en.wikipedia.org/wiki/J._P._Morgan
Condition: Excellent
Item ordered may not be exact piece shown. All original and authentic.