J. Paul Getty - Oklahoma Oil Corporation - The Man behind the Movie "All the Money in the World" - Stock Certificate
Inv# AG1323
Stock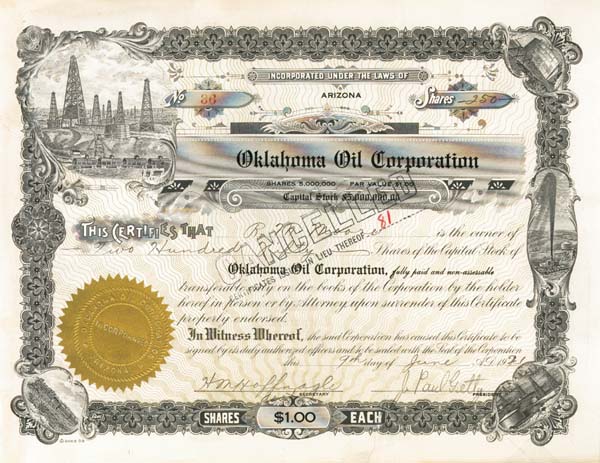 State(s): Arizona
Oklahoma

Years: 1920's-30's
J. Paul Getty (1892-1976), Businessman and noted Art Collector. He became one of the richest people in the world. Getty made his fortune, which may have totaled as much as $4 billion, in the petroleum business. His financial empire included the Getty Oil Company, Skelly Oil Company, and many smaller firms. He began his career in 1909 as a worker in the oil fields near Bartlesville, Okla. He made his first million dollars when he was 23 years old. This 1920's stock has a typical cut cancellation at the signature but shows no paper loss. Great eye appeal! Rare!
UPDATE: All the Money in the World is the 2017 crime thriller film directed by Ridley Scott and written by David Scarpa, based on John Pearson's 1995 book Painfully Rich: The Outrageous Fortunes and Misfortunes of the Heirs of J. Paul Getty. It stars Michelle Williams, Christopher Plummer, Mark Wahlberg, Romain Duris, Andrew Buchan, and Timothy Hutton. The film tells the story of J. Paul Getty's refusal to cooperate with the extortion demands of a group of kidnappers from the organized crime Mafia group 'Ndrangheta who abducted his grandson John Paul Getty III in the 1970's.
Available with a Cut Cancellation at a lesser price. Inquire if interested.
Condition: Excellent
A stock certificate is issued by businesses, usually companies. A stock is part of the permanent finance of a business. Normally, they are never repaid, and the investor can recover his/her money only by selling to another investor. Most stocks, or also called shares, earn dividends, at the business's discretion, depending on how well it has traded. A stockholder or shareholder is a part-owner of the business that issued the stock certificates.
Item ordered may not be exact piece shown. All original and authentic.