J. Paul Getty - Check on Chase Manhattan Bank London - The Man behind the Movie "All the Money in the World"
Inv# AG1086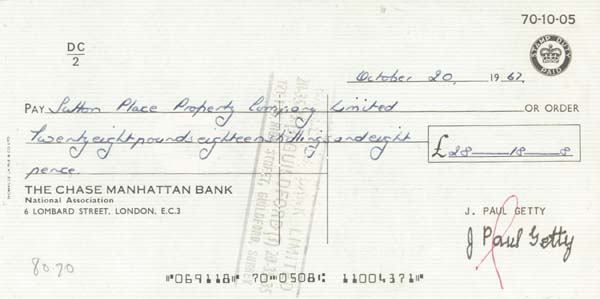 J. Paul Getty (1892-1976), Businessman and noted Art Collector. He became one of the richest people in the world. This great check dated 1960's is drawn on the London branch of Chase and written in Pounds. The signature is very lightly ink cancelled and is very, very bold. Excellent Condition.
UPDATE: All the Money in the World is the 2017 crime thriller film directed by Ridley Scott and written by David Scarpa, based on John Pearson's 1995 book Painfully Rich: The Outrageous Fortunes and Misfortunes of the Heirs of J. Paul Getty. It stars Michelle Williams, Christopher Plummer, Mark Wahlberg, Romain Duris, Andrew Buchan, and Timothy Hutton. The film tells the story of J. Paul Getty's refusal to cooperate with the extortion demands of a group of kidnappers from the organized crime Mafia group 'Ndrangheta who abducted his grandson John Paul Getty III in the 1970's.
Item ordered may not be exact piece shown. All original and authentic.