Issue to & Signed by George W. Vanderbilt II on Pittsburgh & Lake Erie Railroad Co. - 1903 dated Autograph Stock Certificate
Inv# AG2613
Stock

View Larger Image
State(s): Pennsylvania

Years: 1903
Color: Green
Stock issued to and signed by Geo. W. Vanderbilt II on the unattached transfer sheet. Both Stock and Transfer document strangely trimmed. Must have been done many decades ago.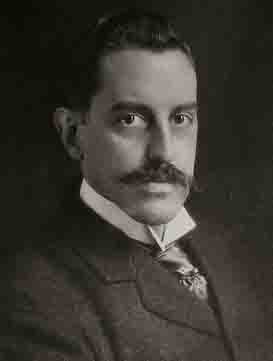 George Washington Vanderbilt III (November 14, 1862 – March 6, 1914) was an art collector and member of the prominent Vanderbilt family, which amassed a huge fortune through steamboats, railroads, and various business enterprises. He commissioned the construction of a 250-room mansion, the largest privately owned home in the United States, which he named Biltmore Estate.
George W. Vanderbilt III was the youngest child of William Henry Vanderbilt and Maria Louisa Kissam. Though there is no evidence to suggest that he referred to himself using a numerical suffix, various sources have called him both George Washington Vanderbilt II and III. The Biltmore recognizes him as George W. Vanderbilt III, because he had two uncles by that name, the first of whom died at the age of four.
As the youngest of William's children, George was said to be his father's favorite and his constant companion. Relatives described him as slender, dark-haired, and pale-complexioned. Shy and introverted, his interests ran to philosophy, books, and the collection of paintings in his father's large art gallery. He acquired a private library of more than twenty thousand volumes. In addition to frequent visits to Paris, France, where several Vanderbilts kept homes, George Vanderbilt traveled extensively and became fluent in several foreign languages. Read more at https://en.wikipedia.org/wiki/George_Washington_Vanderbilt_II
Condition: Excellent
A stock certificate is issued by businesses, usually companies. A stock is part of the permanent finance of a business. Normally, they are never repaid, and the investor can recover his/her money only by selling to another investor. Most stocks, or also called shares, earn dividends, at the business's discretion, depending on how well it has traded. A stockholder or shareholder is a part-owner of the business that issued the stock certificates.
Item ordered may not be exact piece shown. All original and authentic.