Irving Trust Co. Issued to but not Signed by Alfred P. Sloan Jr. - 1934 dated Banking Stock Certificate
Inv# AG2530B
Autograph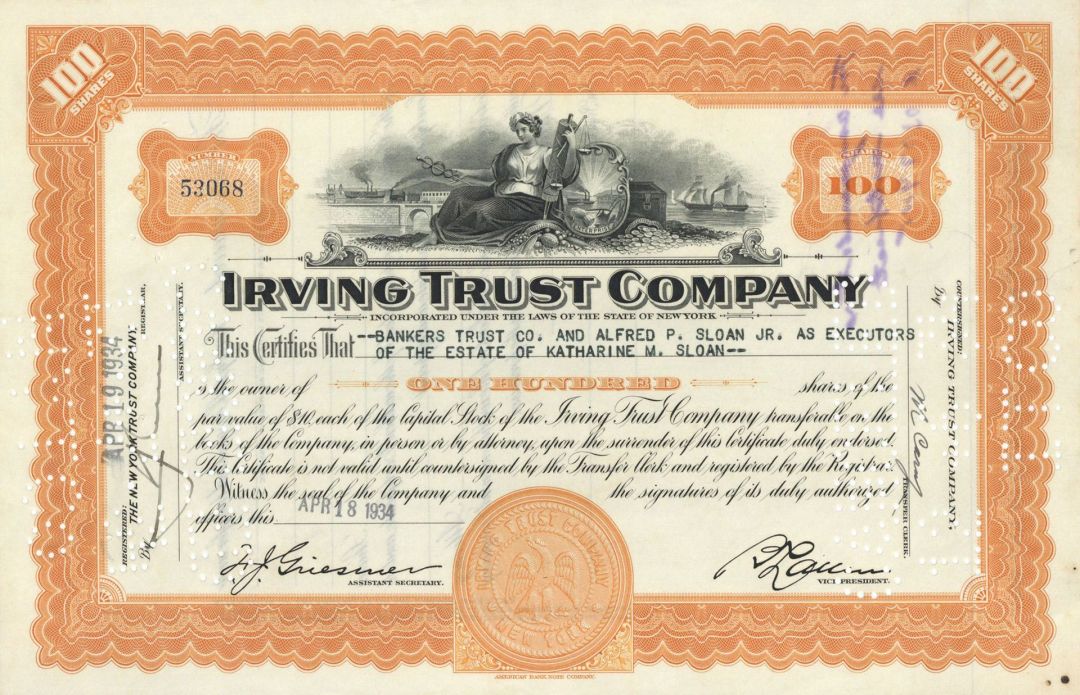 View Larger Image
State(s): New York

Years: 1934
Color: Orange or Green
Stock printed by American Bank Note Company. Issued to "Bankers Trust Co. and Alfred P. Sloan Jr. as Executors of the Estate of Katharine M. Sloan". Not signed by Alfred P. Sloan. Available in Orange and Green. Please specify color.
Alfred Pritchard Sloan Jr. (/slo?n/ SLOHN; May 23, 1875 – February 17, 1966) was an American business executive in the automotive industry. He was a long-time president, chairman and CEO of General Motors Corporation. Sloan, first as a senior executive and later as the head of the organization, helped GM grow from the 1920s through the 1950s, decades when concepts such as the annual model change, brand architecture, industrial engineering, automotive design (styling), and planned obsolescence transformed the industry, and when the industry changed lifestyles and the built environment in America and throughout the world. Read more at https://en.wikipedia.org/wiki/Alfred_P._Sloan
Irving Trust was an American Commercial bank headquartered in New York City that operated between 1851 and 1988 when it was acquired by Bank of New York. From 1965 the bank was the principal subsidiary of the Irving Bank Corporation. Between 1913 and 1931, its headquarters was in the Woolworth Building; after 1931, until it was acquired by Bank of New York, its headquarters was located at 1 Wall Street, at what is now known as the BNY Mellon Building. The bank had its origins in 1851, when the Irving Bank of the City of New York was founded. Since there was not yet a federal currency, each bank issued its own paper and those institutions with the most appealing names found their certificates more widely accepted. The firm was named after Washington Irving, an author, diplomat, and lawyer who had gained an international reputation as America's first man of letters. His portrait appeared on the bank's notes and contributed to their wide appeal. Read more at https://en.wikipedia.org/wiki/Irving_Trust
Condition: Excellent
Item ordered may not be exact piece shown. All original and authentic.