Irving Bank-Columbia Trust Co. Issued to and Signed by Victor F. Emanuel - 1923 dated Banking Stock Certificate
Inv# AG2576
Stock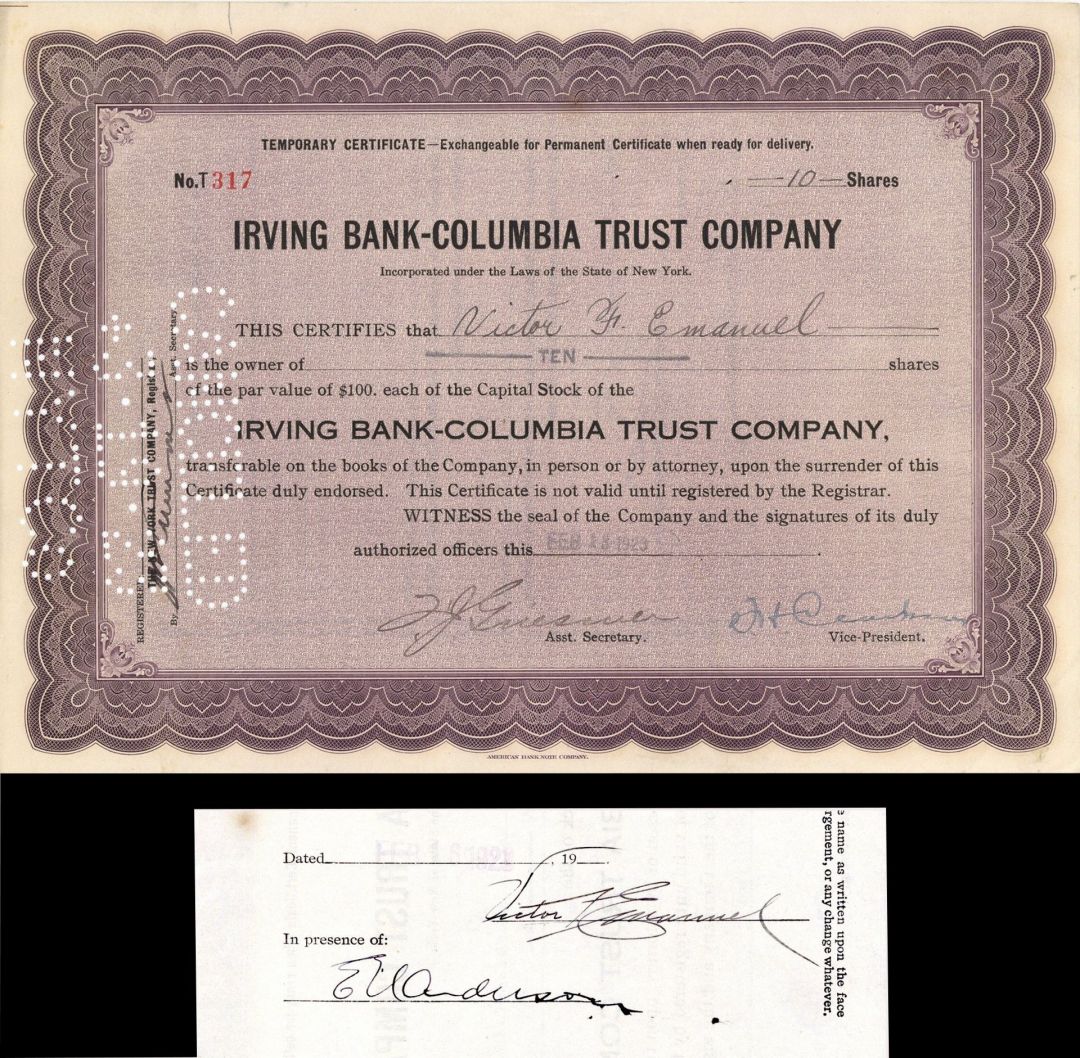 View Larger Image
State(s): New York

Years: 1923
Stock issued to and signed on the back by Victor F. Emanuel. Victor Emanuel was born on January 31, 1898 in Dayton, Ohio, United States. Son of Albert and Deborah (Rieser) Emanuel. He died November 26, 1960. He Married Dorothy Elizabeth Woodruff, September 1, 1920. His father was Albert Emanuel and his mother Deborah (Rieser) Emanuel. He had two children Barton and Albert II. He was a Student at Saint Mary's College (now University of Dayton), 1910-1915, Cornell Univercity, 1915-1918. Doctor of Laws, University of Dayton. War alumnus (Bachelor of Arts) Cornell Univercity. He was the Chairman and member executive committee of the The Avco Manufacturing Corporation. President, director Avco Distributing Corporation. President, director, member Executive Committee Avco of Canada, Limited. He was a Member of the Congressional Aviation Policy Board. During World World World War II he served as director and part time president of the Aircraft War Production Council, industry. He was a member of the Aviation Research Advisory Committee, Harvard University Graduate School of Business Administration Trustee Cornell Univercity and the University of Dayton.
He was a member of the advisory committee Case Institute Technology. And a member of the national advising committee Boston Conference Distribution and the national citizens committee Hoover Report. Also a member of the advisory committee Banking and Currency Committee, United States Senate and board visitors Air Force Academy. He was a member of the Commerce and Industry Association New York, American Farm Bureau Federation, Incorporated., American Heart Association (national sponsors committee), and the Aircraft Industries Association American, Incorporated. And the list goes on: (governor), Chamber of Commerce, State of New York Cornell Univercity Council (member corporation committee), Aircraft Manufacturers Council (member Executive Committee), National Flying Farmers Foundation, Incorporated., National 4-H. Served with United States Naval Flying Corps, World War I. Clubs: Cornell (vice president, governor), The Cloud, Lawyers, Turf and Field, Wings, (Pinnacle New York). Director, member Executive Committee Crosley Broadcasting Corporation, New Idea Farm Equipment Company, Republic Steel Corporation. Director Moffats, Limited., Moffats Overseas, Limited, Crosley Broadcasting of Atlanta, Incorporated.
Irving Trust was an American Commercial bank headquartered in New York City that operated between 1851 and 1988 when it was acquired by Bank of New York. From 1965 the bank was the principal subsidiary of the Irving Bank Corporation. Between 1913 and 1931, its headquarters was in the Woolworth Building; after 1931, until it was acquired by Bank of New York, its headquarters was located at 1 Wall Street, at what is now known as the BNY Mellon Building. The bank had its origins in 1851, when the Irving Bank of the City of New York was founded. Since there was not yet a federal currency, each bank issued its own paper and those institutions with the most appealing names found their certificates more widely accepted. The firm was named after Washington Irving, an author, diplomat, and lawyer who had gained an international reputation as America's first man of letters. His portrait appeared on the bank's notes and contributed to their wide appeal. Read more at https://en.wikipedia.org/wiki/Irving_Trust
Condition: Excellent
A stock certificate is issued by businesses, usually companies. A stock is part of the permanent finance of a business. Normally, they are never repaid, and the investor can recover his/her money only by selling to another investor. Most stocks, or also called shares, earn dividends, at the business's discretion, depending on how well it has traded. A stockholder or shareholder is a part-owner of the business that issued the stock certificates.
Item ordered may not be exact piece shown. All original and authentic.