Indiana, Illinois and Iowa RR Co. List of Bond Holders
Inv# AG2211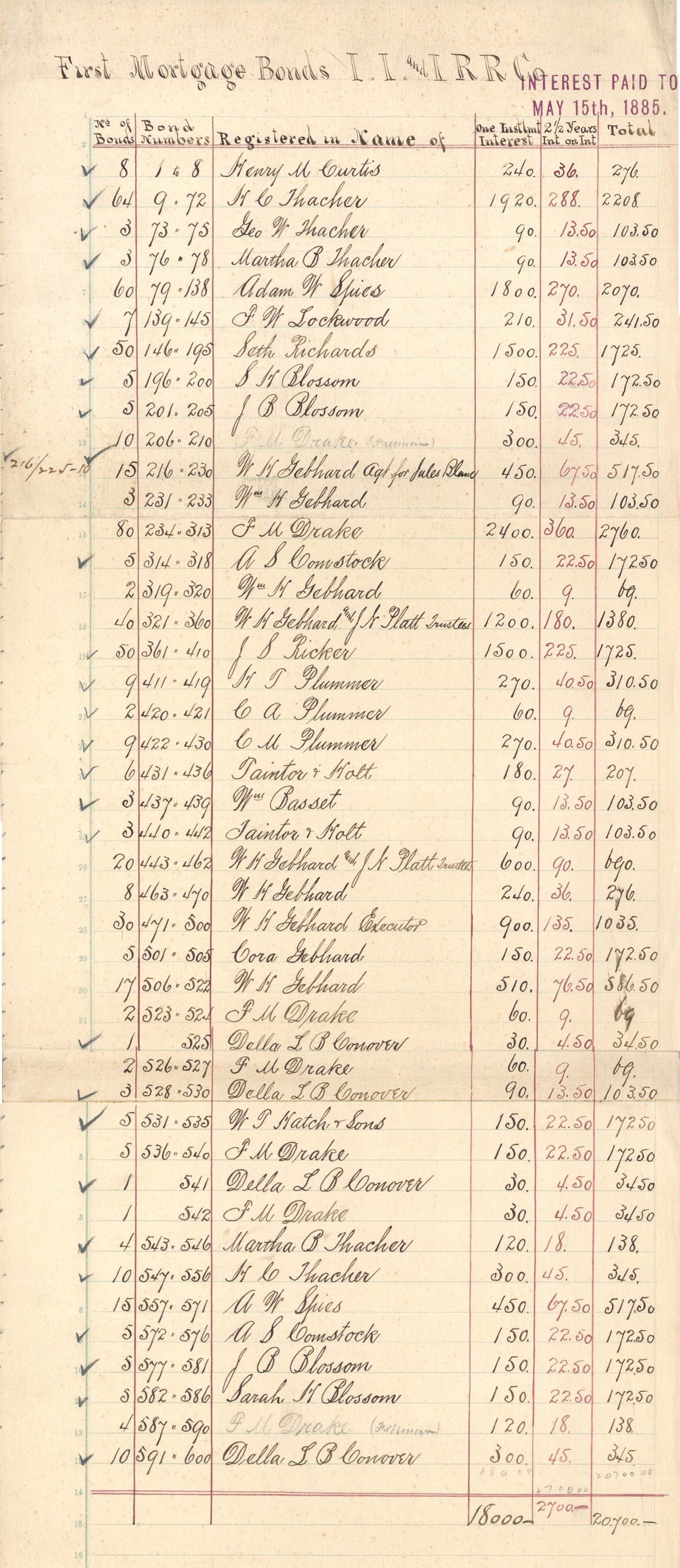 State(s): Illinois
Indiana
Iowa

Years: 1885
List of Bond holders of the Indiana, Illinois and Iowa RR Co. including the largest share holder and Governor of Iowa, F.M. Drake.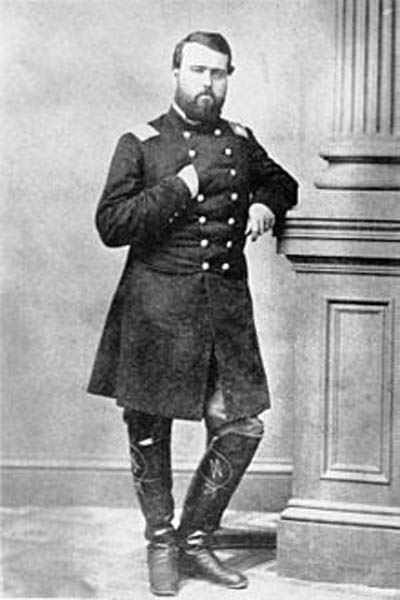 Francis Marion Drake (December 30, 1830 – November 20, 1903) was an American merchant, lawyer, banker and politician. He fought in the American Civil War and later became the 16th Governor of Iowa.
Drake was born in Rushville, Illinois, the son of John Adams Drake and Harriet Jane O'Neal. He later moved to Centerville, Iowa. He got a good business education, and became a merchant. He married Mary Jane Lord on December 24, 1855. They had seven children.
During the California Gold Rush, he led two expeditions across the plains from Iowa to California. The first one left in 1852. During that trip with ox teams, he encountered a band of 300 Pawnee, which he defeated with little loss to his band. The second trip in 1854 escorted a herd of cattle. Returning by ship after the second trip, he was wrecked off of Point Aquilla. Eight hundred passengers were killed.
During the American Civil War, he was commissioned as lieutenant colonel of the 36th Iowa Volunteer Infantry Regiment in August 1862. In 1864, he was severely wounded during the Battle of Mark's Mills. He was mustered out in 1865 as brigadier general of volunteers.
After the war, he practiced law for about six years as a criminal lawyer. Then for almost 30 years, he worked at banking and building and managing railroads. He was president of the Missouri, Iowa and Nebraska Railroad, the Indiana, Illinois and Iowa Railroad and the Albia and Centerville Railroad. He organized the Centerville National Bank, of which he was president until his death.
On July 17, 1895, he was nominated by the Republican Party for governor of Iowa. He was elected governor by an overwhelming majority on November 5, 1895, serving 1896 through 1898.
He founded and endowed Drake University in Des Moines, Iowa. It was named after him, and he served as president of the board of trustees. He also contributed to other colleges and gave to churches and missionary societies of many creeds. He died in Centerville, Iowa, in 1903, and is buried in Centerville's Oakland Cemetery.
Condition: Excellent
Item ordered may not be exact piece shown. All original and authentic.