Indiana, Illinois & Iowa Railroad Co signed by Francis Marion Drake - Autograph Railway Stock Certificate
Inv# AG1285B
Stock

View Larger Image
State(s): Illinois
Indiana
Iowa

Years: 1882 or 1890
Stock signed by F.M. Drake as president. (Drake University) Printed by Franklin Bank Note Co., New York. Some staining.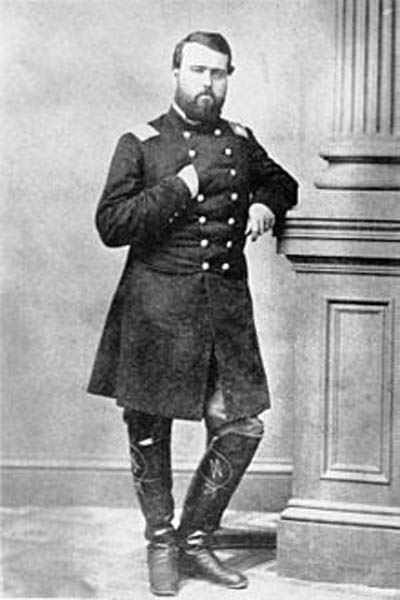 Francis Marion Drake (December 30, 1830 – November 20, 1903) was an American merchant, lawyer, banker and politician. He fought in the American Civil War and later became the 16th Governor of Iowa. He is the namesake of Drake University. Drake was born in Rushville, Illinois, the son of John Adams Drake and Harriet Jane O'Neal. He later moved to Centerville, Iowa. He received a good business education, and became a merchant.
During the California Gold Rush, he led two expeditions across the plains from Iowa to California. The first one left in 1852. During that trip with ox teams, he and just 7 other teamsters encountered a band of 300 Pawnee on the plains of Nebraska and he succeeded in blunting their attack with little loss-reportedly after personally slaying the Pawnee leader with a knife, demoralizing the remaining Indians, who broke contact. The second trip in 1854 escorted a herd of cattle. Returning by ship after the second trip, he was wrecked off of Point Arguello. Eight hundred passengers were killed, but Drake assisted in rescuing 200 passengers. Read more at https://en.wikipedia.org/wiki/Francis_M._Drake
Condition: Good
A stock certificate is issued by businesses, usually companies. A stock is part of the permanent finance of a business. Normally, they are never repaid, and the investor can recover his/her money only by selling to another investor. Most stocks, or also called shares, earn dividends, at the business's discretion, depending on how well it has traded. A stockholder or shareholder is a part-owner of the business that issued the stock certificates.
Item ordered may not be exact piece shown. All original and authentic.