Idaho Maryland Mines Corporation - Stock Certificate
Inv# MS3073
Stock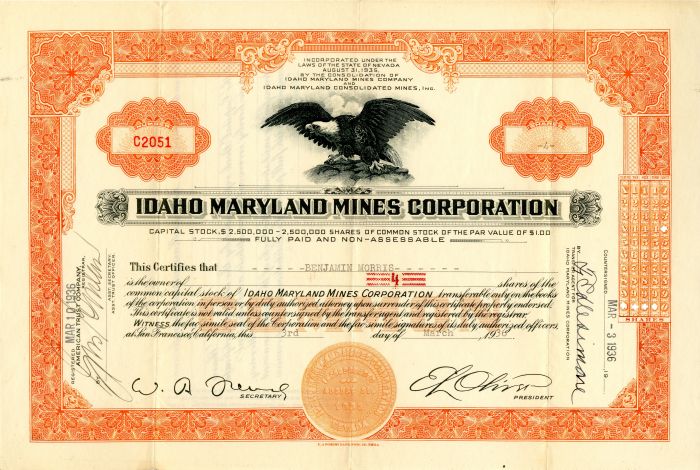 State(s): California
Nevada

Years: 1936
Stock printed by E.A. Wright Bank Note Co., Phila.
In relation to the Idaho–Maryland Mine Corporation, Nevada County Air Park (ICAO: KGOO, FAA LID: GOO, formerly O17) is a public airport in Nevada County, California, three miles east of Grass Valley, California. It is also known as Nevada County Airport.
Most U.S. airports use the same three-letter location identifier for the Federal Aviation Administration (FAA) and IATA, but this airport is GOO to the FAA and has no IATA code. (IATA assigned GOO to an airport in Goondiwindi, Queensland, Australia.)
The air park was built by local entrepreneur Errol MacBoyle in 1933 to fly gold mined by his Idaho–Maryland Mine Corporation to Mills Field, now known as San Francisco International Airport, from where it was trucked to the San Francisco Mint. The airport was closed down at the onset of World War II due in part to the government shutdown of mining operations along with the wartime ban on civilian flight within 150 miles of the coast of California. The airport property was purchased from the MacBoyle estate by Charles Litton Sr. in 1955. Litton had previously moved his company's engineering laboratory to Grass Valley in 1953. After acquiring the property, Litton spent $10,000 to repair the runway that had fallen into disrepair and partnered with local government and businesses through the Grass Valley Chamber of Commerce to reopen the airport and build an industrial park in order to attract new business to the region. The airport was reopened in 1956 and renamed Loma Rica Airport. The United States Forest Service and California Department of Forestry and Fire Protection began using the airport as a base for their wildfire air attack operations in 1958. A major renovation took place in 1965 when the landing strip was lengthened to 4,000 feet (1,200 m). In 1994 a 3000 square foot terminal was added and the following year the landing strip was again extended.
Nevada County Air Park covers 117 acres (47 ha) at an elevation of 3,154 feet (961 m). Its single runway, 7/25, is 4,351 by 75 feet (1,326 x 23 m).
In 2015 the airport had 27,750 aircraft operations, average 76 per day: 96% general aviation and 4% air taxi. 142 aircraft were then based at this airport — 95% single-engine, 4% multi-engine and 1% helicopter.
Condition: Excellent
A stock certificate is issued by businesses, usually companies. A stock is part of the permanent finance of a business. Normally, they are never repaid, and the investor can recover his/her money only by selling to another investor. Most stocks, or also called shares, earn dividends, at the business's discretion, depending on how well it has traded. A stockholder or shareholder is a part-owner of the business that issued the stock certificates.
Item ordered may not be exact piece shown. All original and authentic.