Hudson River Railroad Co. signed by James Roosevelt I - Bond
Inv# AG1983
Bond
State(s): New York

Years: 1863
Second Mortgage Sinking Fund Bond signed by James Roosevelt I.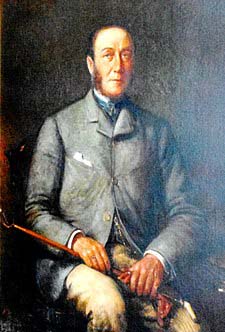 James Roosevelt I (July 16, 1828 – December 8, 1900), known as "Squire James", was an American businessman, politician, horse breeder, and the father of American President Franklin D. Roosevelt.
After obtaining a law degree from Harvard University, Roosevelt joined the law firm of Benjamin D. Silliman, the latter arranging Roosevelt serve on the founding board of directors to the company's client, the Consolidated Coal Company of Maryland. Doug Wead wrote that Roosevelt applied the skills he learned from watching the growth of this company to his own enterprise. Roosevelt's business interests were primarily in coal and transportation. He was vice president of the Delaware and Hudson Railway and president of the Southern Railway Security Company. During an 1853 trip to London shortly after his marriage, Roosevelt called upon United States Minister to the United Kingdom James Buchanan and accepted an invitation by Buchanan to serve as the minister's secretary at the embassy. Conrad Black wrote that this began the tradition of members of the Hyde Park Roosevelt family being affiliated with Democratic presidents. Following the 1863 death of his father, Roosevelt inherited both his wealth and status as patriarch of the family. Roosevelt purchased an estate that he bestowed the name "Springwood". In 1871, Roosevelt was elected town supervisor of Hyde Park and was pursued as a potential candidate for the New York state assembly or senate or Congress, requests that he turned down despite having an interest in politics. In the 1880s, Roosevelt donated to the New York gubernatorial campaign of Grover Cleveland and Cleveland's presidential campaign two years later. After the 1884 United States presidential election, in which Cleveland was elected president, the Roosevelt family regularly met with the Clevelands in visits to the White House. Roosevelt was seen by the press as a possible appointee for a diplomatic appointee within the Cleveland administration, though he turned down these rumors. Roosevelt did contribute to his eldest son James being appointed to the post of First Secretary of the United States Legation in Vienna. In 1927 Franklin and Sara Roosevelt donated money to the town of Hyde Park for the construction of a new library, named after James, and still in use today.
Condition: Excellent
A bond is a document of title for a loan. Bonds are issued, not only by businesses, but also by national, state or city governments, or other public bodies, or sometimes by individuals. Bonds are a loan to the company or other body. They are normally repayable within a stated period of time. Bonds earn interest at a fixed rate, which must usually be paid by the undertaking regardless of its financial results. A bondholder is a creditor of the undertaking.
Item ordered may not be exact piece shown. All original and authentic.