Hooverhurst and South Western Railroad Co. Signed by A.G. Edwards - Stock Certificate
Inv# AG2316A
Stock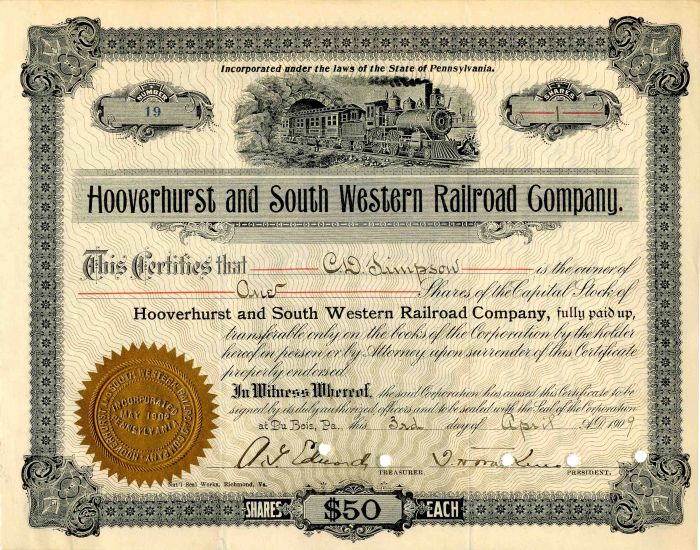 State(s): Pennsylvania

Years: 1909
Stock signed by A.G. Edwards as treasurer.
A.G. Edwards, Inc. was an American financial services holding company; its principal wholly owned subsidiary was A.G. Edwards & Sons, Inc., which operated as a full-service securities broker-dealer in the United States and Europe. The firm was acquired by Wachovia Securities, which later was acquired by Wells Fargo Advisors. The firm provided securities and commodities brokerage, investment banking, trust services, asset management, financial and retirement planning, private client services, investment management, and other related financial services to individual, governmental, and institutional clients.
A.G. Edwards was a member of the New York Stock Exchange and other major stock and commodities exchanges. The firm's global headquarters were located in the Downtown West area of St. Louis, Missouri. The company traded on the NYSE under the ticker symbol AGE.
Condition: Excellent
A stock certificate is issued by businesses, usually companies. A stock is part of the permanent finance of a business. Normally, they are never repaid, and the investor can recover his/her money only by selling to another investor. Most stocks, or also called shares, earn dividends, at the business's discretion, depending on how well it has traded. A stockholder or shareholder is a part-owner of the business that issued the stock certificates.
Item ordered may not be exact piece shown. All original and authentic.