Homestake Mining Co. with printed signature of Fred Clark and Edward H. Clark - Stock Certificate
Inv# AG2251B
Stock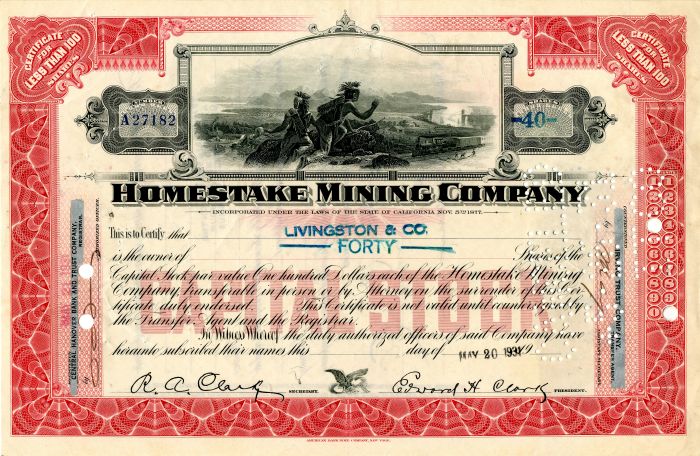 State(s): California
South Dakota

Years: 1931
Stock with printed signatures of Fred Clark and Edward H. Clark. Printed by American Bank Note Co., New York.
Frederick Leonard Clark (March 19, 1914 – December 5, 1968) was an American film and television character actor. Born in Lincoln, California, Clark made his film debut in 1947 in The Unsuspected. His 20-year film career included nearly seventy films and numerous television appearances. As a supporting player, with his gruff voice, intimidating build, bald head and small moustache beneath an often scowling visage, he was often cast as a testy film producer, crime boss, landlord, employer, doctor, or general. In 1942 during World War II Clark joined the United States Navy and served as a pilot. He later transferred to the United States Army and served with the Third Army in Europe until the end of the war. Clark with Gene Kelly in the Going My Way television episode, "A Matter of Principle" (1962) Among his films were Ride the Pink Horse (1948), Mr. Peabody and the Mermaid (1948), Flamingo Road (1949), White Heat (1949), Sunset Boulevard (1950), A Place in the Sun (1951), How to Marry a Millionaire (1953), The Court-Martial of Billy Mitchell (1955), How to Be Very, Very Popular (1955), Daddy Long Legs (1955), Auntie Mame (1958), and Visit to a Small Planet (1960). Although he continued making films during the 1960s (most notably a large role in Hammer Film Productions' The Curse of the Mummy's Tomb in 1964 and John Goldfarb, Please Come Home in 1965) he was more often seen on television, as a regular on The George Burns and Gracie Allen Show as neighbor Harry Morton (until 1953) and guest roles on The Twilight Zone, The Beverly Hillbillies, Going My Way, The Addams Family, and I Dream of Jeannie. In 1962, he and Bea Benaderet, another Burns and Allen veteran, played Mr. and Mrs. Springer in the episode "Continental Dinner," the series finale of the CBS sitcom Pete and Gladys, starring Harry Morgan and Cara Williams. Clark had a regular but short-lived role in the 1966 ABC sitcom The Double Life of Henry Phyfe as the "Central Intelligence Service" boss of a hapless conscripted spy played by comedian Red Buttons. Clark was married to actress Benay Venuta from 1952–1962, then model Gloria Glaser from 1966 until his death from liver disease in Santa Monica, California. Clark has a star on the Hollywood Walk of Fame for his work in television, at 1711 Vine Street.
Homestake Mining Company was one of the largest gold mining businesses in the United States and the owner of the Homestake Mine in Lead, South Dakota. Founded in 1877, it was acquired by Barrick Gold in December 2001.
Homestake was the longest-listed stock in the history of the New York Stock Exchange.
George Hearst (father of William Randolph Hearst), Lloyd Tevis, and his brother-in-law James Ben Ali Haggin bought the 10-acre Homestake Mine from its discoverer, Moses Manuel, for $70,000, and incorporated the Homestake Mining Company on November 5, 1877.
On January 25, 1879, the company became a public company via an initial public offering on the New York Stock Exchange, the first mining stock ever listed.
In 1910 and 1917, the company established hydroelectricity plants. They were sold to the city of Spearfish, South Dakota in 2004.
Between 1970 and 1977, Paul C. Henshaw was President of the company.
In 1981, the company bought out its partner in its uranium joint venture, United Nuclear Corporation, for $23 million and assumed operation of four uranium mines and one mill.
In March 1996, the company exercised its option to buy 34% more of a mine in Bulgaria.
In 1997, the company agreed to acquire a majority interest in the Troilus mine from Inmet Mining but backed out of the deal, leading to a lawsuit.
In April 1998, the company acquired Plutonic Resources Limited for $640 million, adding mines in Australia.
In December 1998, the company acquired the 49.4% of Prime Resources Group that it did not already own.
In September 2000, the company announced plans to close the Homestake Mine by January 2002.
In December 2001, Barrick Gold acquired the company.
Here is an article that you would like: https://www.kellycodetectors.com/pages/the-black-hills-gold-rush/
Condition: Excellent
A stock certificate is issued by businesses, usually companies. A stock is part of the permanent finance of a business. Normally, they are never repaid, and the investor can recover his/her money only by selling to another investor. Most stocks, or also called shares, earn dividends, at the business's discretion, depending on how well it has traded. A stockholder or shareholder is a part-owner of the business that issued the stock certificates.
Item ordered may not be exact piece shown. All original and authentic.