Henry Keep - Michigan Southern & Northern Indiana Railroad Co. - Stock Certificate
Inv# AG1337A
Stock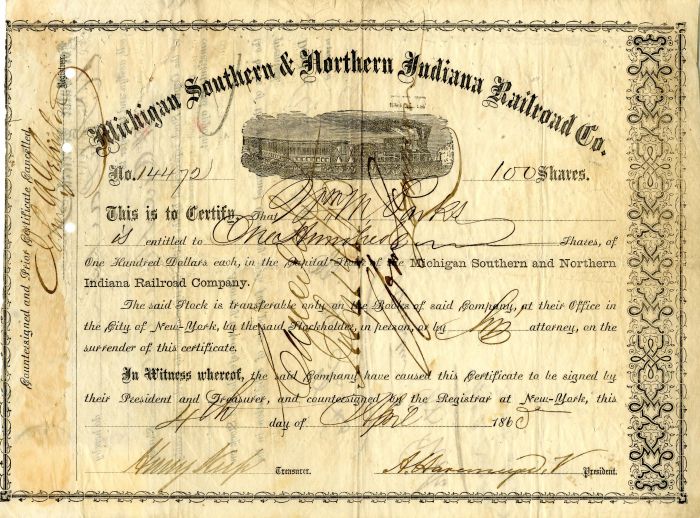 State(s): Indiana
Michigan

Years: 1865
Stock signed by Henry Keep as treasurer.
Henry Keep (1818-1869) was a financier, born in Jefferson county, New York, in 1818; died in New York City, 30 July, 1869. After suffering many hardships through poverty, he worked his way to Honeoye Falls. Near Rochester, New York, he was employed as a teamster, and, having saved a small sum of money, invested it during the financial crisis of 1837 in depreciated currency, which, upon its subsequent rise, yielded him a handsome profit. He then bought Canadian banknotes at a discount from residents of the American frontier, and cashed them at par in Canada. In this way he amassed sufficient capital to establish a bank at Watertown, New York, and afterward founded several other country banks. He then removed to New York and became largely interested in railroads and railroad stocks. In 1861-63 he was treasurer of the Michigan Southern railroad, and for six months of 1866 was president of the New York Central Railroad. From June 1868, until the time of his death, he was president of the Chicago and Northwestern, controlling manager of the North Indiana, and president of the Cleveland and Toledo railroad. Henry became known as "William the Silent" because of his uncanny secrecy surrounding his investments.
Condition: Good
A stock certificate is issued by businesses, usually companies. A stock is part of the permanent finance of a business. Normally, they are never repaid, and the investor can recover his/her money only by selling to another investor. Most stocks, or also called shares, earn dividends, at the business's discretion, depending on how well it has traded. A stockholder or shareholder is a part-owner of the business that issued the stock certificates.
Item ordered may not be exact piece shown. All original and authentic.