Henry Clews - Blue Ridge Railroad Bond
Inv# AG1210
Bond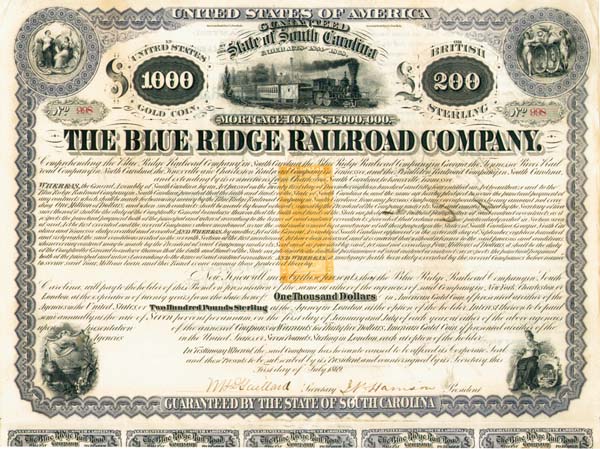 State(s): South Carolina

Years: 1869
Henry Clews (1834-1923), Financier, Banking and Brokerage Business. During the Civil War his firm, later Henry Clews & Co., ranked second to Jay Cooke & Co. in amount of government bonds sold. This gorgeous Bond has Clews signing as a Trustee at back. This South Carolina double denomination bond, 1869, $1,000 Gold Coin/£200 British Sterling, has 5 engravings by American Bank Note-NY. Neatly cut cancelled. Available with or without imprinted revenue stamp. So beautiful and so very popular!!! Bond comes with a black and white portrait of Clews.
A bond is a document of title for a loan. Bonds are issued, not only by businesses, but also by national, state or city governments, or other public bodies, or sometimes by individuals. Bonds are a loan to the company or other body. They are normally repayable within a stated period of time. Bonds earn interest at a fixed rate, which must usually be paid by the undertaking regardless of its financial results. A bondholder is a creditor of the undertaking.
Item ordered may not be exact piece shown. All original and authentic.