Harry F. Miller signed Edison Portland Cement Co Stock Certificate - Transferred to Thomas A. Edison Inc. at Back
Inv# AG1286
Stock

View Larger Image
Years: 1908-20's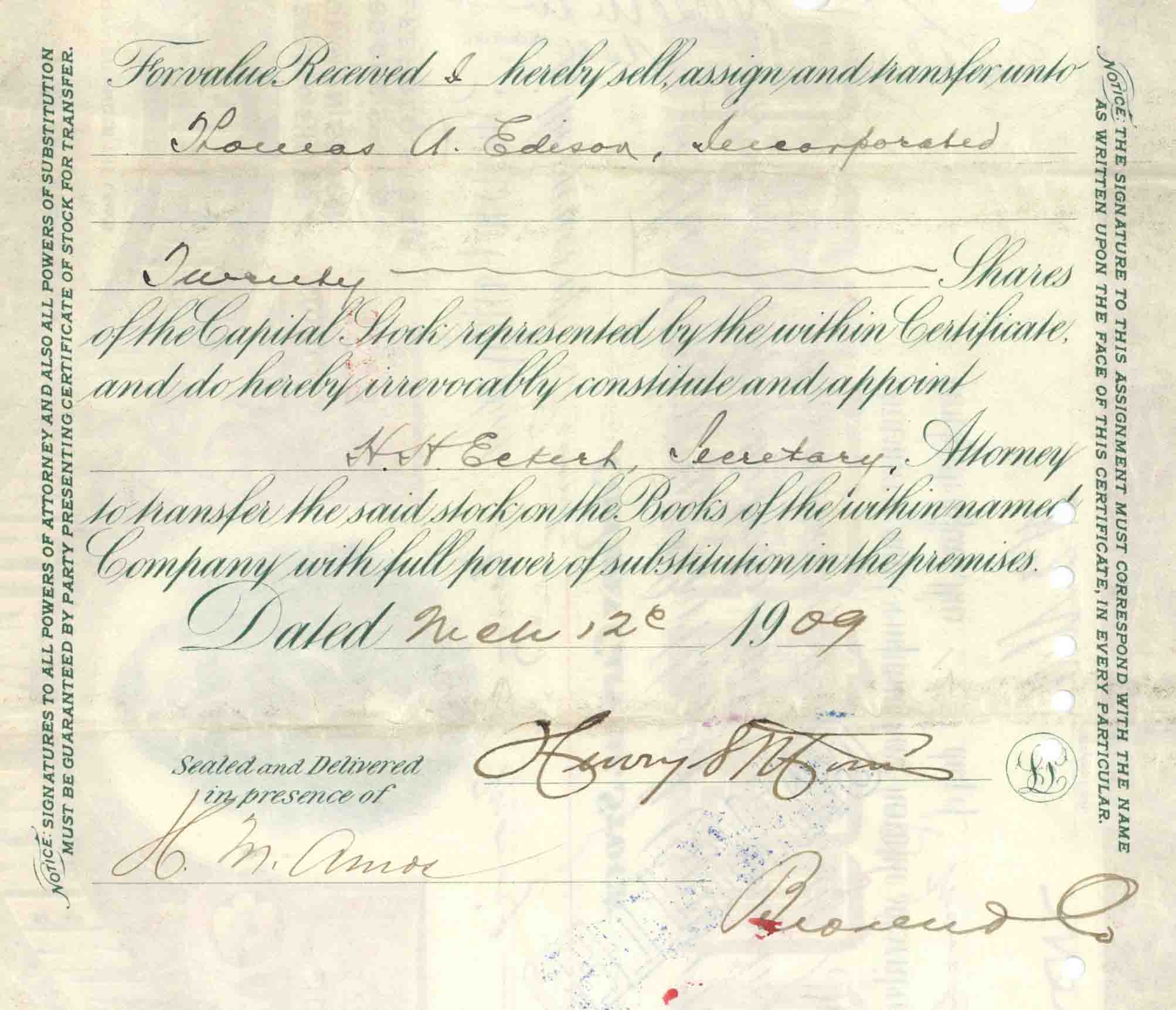 Stock dated 1908-1920's by American Bank Note. Signed by Harry F. Miller, Edison's personal secretary. Transferred to Thomas A. Edison Inc. Great Portrait!!! The
Edison Portland Cement Company
was a venture by
Thomas Edison
that helped to improve the
Portland cement
industry. Edison was developing an
iron ore
milling process and discovered a market in the sale of waste sand to cement manufacturers. He decided to set up his own cement company, founding it in
New Village, New Jersey
in 1899, and went on to supply the concrete for the construction of
Yankee Stadium
in 1922.
In 1881 Edison formed the Edison Ore-Milling Company and tried for many years to make that business a success. The demand was not existent, though new technological innovations that Edison brought to the industry the company could not compete with operations in the Midwest. Despite continual investment, with Edison selling shares in General Electric, the company suffered huge losses. Eventually, the ore-crushing technology was sold to other mine owners.
The manufacturing process used by the Edison Ore-Milling Company produced a large quantity of waste sand which he would sell to cement manufacturers. The properties of the fine sand were particularly suitable for concrete, leading to a harder, more durable product. In 1899, Edison decided to join the cement business, reusing some of the technology he had developed for ore-milling. The company only lasted a few years after the construction of the Yankee Stadium, falling victim to the Great Depression. Read more at https://en.wikipedia.org/wiki/Edison_Portland_Cement_Company
A stock certificate is issued by businesses, usually companies. A stock is part of the permanent finance of a business. Normally, they are never repaid, and the investor can recover his/her money only by selling to another investor. Most stocks, or also called shares, earn dividends, at the business's discretion, depending on how well it has traded. A stockholder or shareholder is a part-owner of the business that issued the stock certificates.
Item ordered may not be exact piece shown. All original and authentic.