Guatemala Central Rail Road Company signed by C.P. Huntington & J.E. Gates - SOLD
Inv# AG1749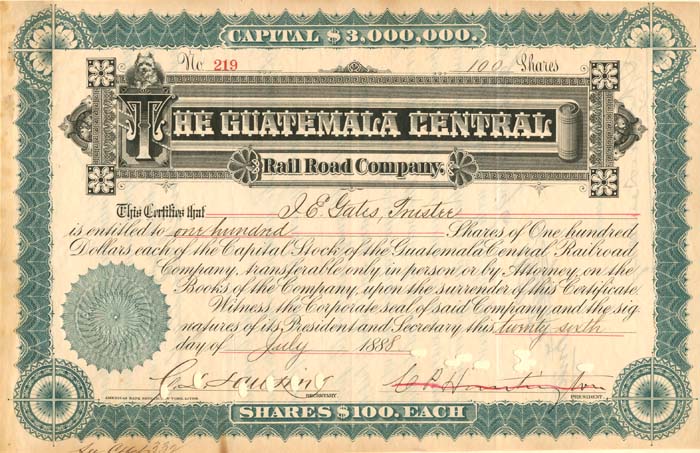 Country: Guatemala

Years: 1888
Stock signed by C.P. Huntington as president and J.E. Gates on back. Transfer to Daniel Butterfield ("Taps"). Portrait and biography included.
Collis P. Huntington was born in Harwinton, Connecticut in 1821. In 1842 he and his brother established a successful business in Oneonta, New York, selling general merchandise. When he saw opportunity blooming in America's West, he set out for California, and established himself as a merchant in Sacramento at the start of the California Gold Rush. Huntington succeeded in his California business, too, and it was here that he teamed up with Mark Hopkins selling miners' supplies and other hardware. In the late 1850s, he and Hopkins joined forces with two other successful businessmen, Leland Stanford and Charles Crocker, to pursue the idea of creating a rail line that would connect the America's East and West. In 1861, these four businessmen (sometimes referred to as The Big Four) pooled their resources and business acumen, and formed the Central Pacific Railroad company to create the western link of America's transcontinental railway system. Of the four, he had a reputation for being the most ruthless in pursing the railroad's business and the ouster of his partner, Stanford. On May 10, 1869, at Promontory, Utah, the tracks of the Central Pacific Railroad joined with the tracks of the Union Pacific Railroad, and America had a transcontinental railroad. The joining was celebrated by the driving of the golden spike. He was later involved in the establishment of the Southern Pacific Railroad, which was purchased by the Big Four principals of the Central Pacific Railroad in 1868. The railroad's first locomotive, C. P. Huntington, was named in his honor. Beginning in 1871, he oversaw completion of the Chesapeake and Ohio Railway from Richmond across Virginia and West Virginia to reach the Ohio River. There, he established the planned city of Huntington, West Virginia. He became active in developing the emerging southern West Virginia coal business for the C&O. In the 1880s, he led the building of the C&O's Peninsula Subdivision which extended from the Church Hill Tunnel in Richmond east down the Virginia Peninsula through Williamsburg to the southeastern end of the Peninsula on the harbor of Hampton Roads in Warwick County, Virginia where he established coal piers in a location which became the City of Newport News in 1896. Nearby, he also founded Newport News Shipbuilding, the largest privately owned shipyard in the United States.
SOLD
Condition: Excellent
Item ordered may not be exact piece shown. All original and authentic.