Grantsburg, Rush City and St. Cloud Railroad Co. - Stock Certificate
Inv# NP1023
Stock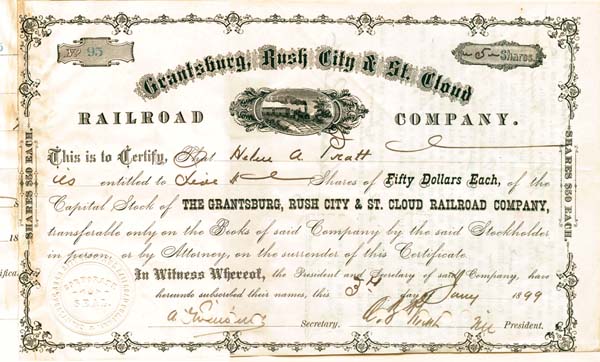 State(s): Minnesota

Years: 1878-98
Incorporated in 1878 under the state laws of Minnesota, the company operated a line from Rush City to a point on the St. Croix River in Chisago County, northeast of Rush City, connecting there with the St. Cloud, Grantsburg and Ashland Railroad. It was sold to the St. Paul and Duluth Railroad Company in 1899, then deeded to Northern Pacific in 1900. (SNAC) Also available unissued at a lesser price. Please inquire if interested.
A stock certificate is issued by businesses, usually companies. A stock is part of the permanent finance of a business. Normally, they are never repaid, and the investor can recover his/her money only by selling to another investor. Most stocks, or also called shares, earn dividends, at the business's discretion, depending on how well it has traded. A stockholder or shareholder is a part-owner of the business that issued the stock certificates.
Item ordered may not be exact piece shown. All original and authentic.