Georgia Rail Road and Banking Co. Signed by John P. King - Autograph Stock Certificate
Inv# AG2594
Stock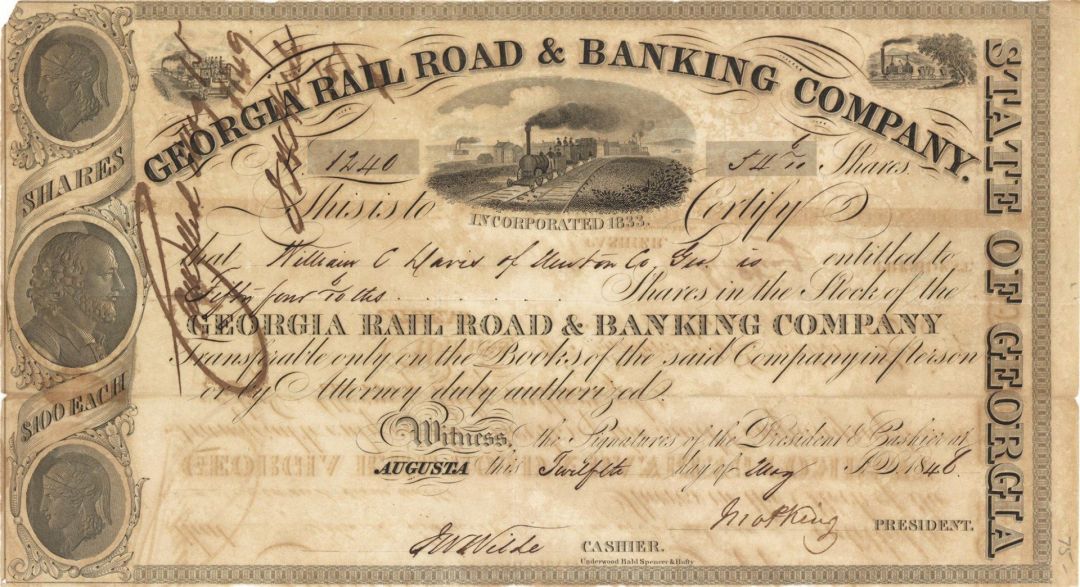 View Larger Image
State(s): Georgia

Years: 1848
Early Stock signed by John P. King as president. Clipped corner. John Pendleton King (April 3, 1799 – March 19, 1888) was an attorney, planter and politician, serving as United States Senator from Georgia. He resigned in 1837 before the end of his term to devote himself to his plantation and business, serving for nearly 40 years as president of the Georgia Railroad and Banking Company and becoming a cotton manufacturer. He acquired large plantation holdings and by 1860 owned 69 slaves to work the cotton fields and related trades. Read more at https://en.wikipedia.org/wiki/John_Pendleton_King
The Georgia Railroad and Banking Company (reporting mark GA) also seen as "GARR", was a historic railroad and banking company that operated in the U.S. state of Georgia. In 1967 it reported 833 million revenue-ton-miles of freight and 3 million passenger-miles; at the end of the year it operated 331 miles (533 km) of road and 510 miles (820 km) of track.
The company was chartered in 1833 in Augusta, Georgia. In 1835, the charter was amended to include banking. Originally the line was chartered to build a railroad from Augusta to Athens, with a branch to Madison. It was converted to 4 ft 8+1⁄2 in (1,435 mm) in 1886.
The Georgia Railroad decided to extend the Madison branch to Terminus (Atlanta) and thereby compete with the Central Railroad and Banking Company of Georgia (later the Central of Georgia Railroad), which together with the Macon & Western Railroad, was competing for traffic through Charleston's rival port of Savannah, Georgia. By 1850, this railroad had built 213 miles (343 km) of track and was up to 232 miles (373 km) by 1860. At the time, goods from the Mississippi and Ohio valleys had to go by riverboat to New Orleans and then via coastal steamships around the Florida Keys, to get to the big population centers in the Northeast. Shipping cross-country by rail to the ports of Charleston and Savannah made perfect economic sense. Read more at https://en.wikipedia.org/wiki/Georgia_Railroad_and_Banking_Company
Condition: Good
A stock certificate is issued by businesses, usually companies. A stock is part of the permanent finance of a business. Normally, they are never repaid, and the investor can recover his/her money only by selling to another investor. Most stocks, or also called shares, earn dividends, at the business's discretion, depending on how well it has traded. A stockholder or shareholder is a part-owner of the business that issued the stock certificates.
Item ordered may not be exact piece shown. All original and authentic.