General William Mahone - Virginia and Tennessee Railroad Co. $100 Bond
Inv# AG1023
Bond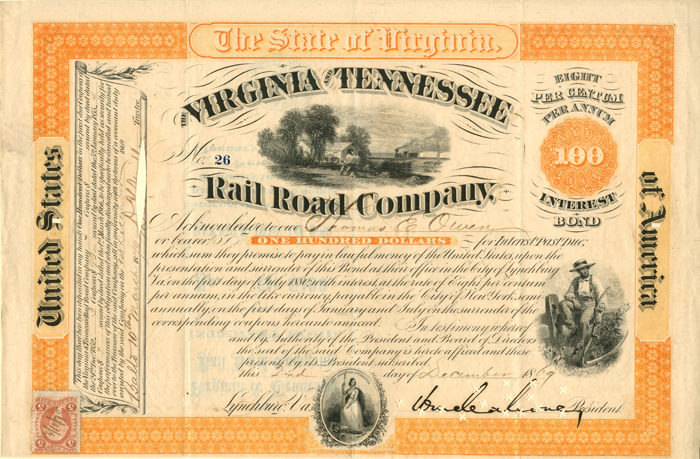 State(s): Tennessee
Virginia

Years: 1860's-70's
Color: $100 Orange or $1,000 Green
Confederate General William Mahone (December 1, 1826 – October 8, 1895), he signs this Virginia and Tennessee Railroad Bond. Mahone of Southampton County, Virginia, was a civil engineer, teacher, soldier, railroad executive, and a member of the Virginia General Assembly and U.S. Congress. Small of stature, he was nicknamed "Little Billy". Various denomination bonds dated in the 1860's-early 70's. Superb engraved graphics by National Bank Note Co. The fine detail in the 3 vignettes is superb. Hole cancelled but reasonably clear dark signature. Another great addition to any Southern or Confederate collection. Please specify color. Excellent Condition.
Condition: Excellent
A bond is a document of title for a loan. Bonds are issued, not only by businesses, but also by national, state or city governments, or other public bodies, or sometimes by individuals. Bonds are a loan to the company or other body. They are normally repayable within a stated period of time. Bonds earn interest at a fixed rate, which must usually be paid by the undertaking regardless of its financial results. A bondholder is a creditor of the undertaking.
Item ordered may not be exact piece shown. All original and authentic.