General John A. Dix - Mississippi & Missouri Railroad - Stock Certificate
Inv# CW1032
Stock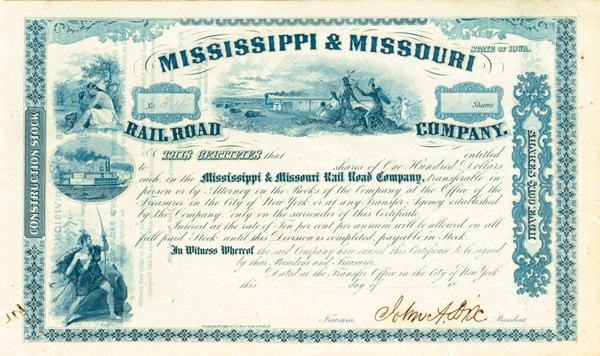 State(s): Mississippi
Missouri

Years: 1850's
Color: Blue, Red or Black
John A. Dix (1798-1879), Soldier, Lawyer, Statesman. An active career in military and politics, he became Secretary of the Treasury in 1861, his chief service to the Union. His dispatch of Jan. 29, 1861 to a treasury official in New Orleans which ended: "If anyone attempts to haul down the American flag, shoot him on the spot!" was a clarion call to the North. After turning over the job to Salmon P. Chase, he was made a major-general. After the war, he served as Minister to France and later Governor of New York. Gorgeous stock (1850's) of the Mississippi & Missouri Railroad Co. An exceptional Southern stock. Gorgeous color, Unissued and boldly signed by Dix. Excellent Condition. Superb!!! Please specify color.
Condition: Excellent
A stock certificate is issued by businesses, usually companies. A stock is part of the permanent finance of a business. Normally, they are never repaid, and the investor can recover his/her money only by selling to another investor. Most stocks, or also called shares, earn dividends, at the business's discretion, depending on how well it has traded. A stockholder or shareholder is a part-owner of the business that issued the stock certificates.
Item ordered may not be exact piece shown. All original and authentic.