Ford Motor Co. of Canada, Limited signed by Henry Ford - Stock Certificate
Inv# AG1747
Stock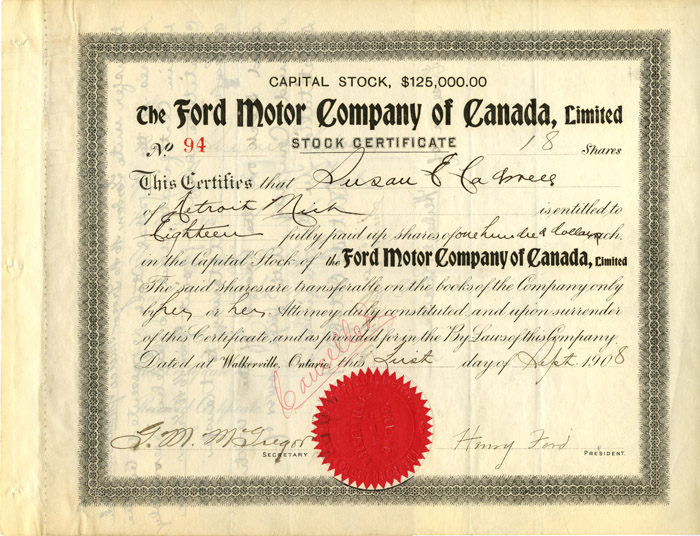 Country: Canada

Years: 1908
Stock signed by Henry Ford as president. Very Rare!
Henry Ford (July 30, 1863 – April 7, 1947) was an American industrialist, the founder of the Ford Motor Company, and sponsor of the development of the assembly line technique of mass production. Although Ford did not invent the automobile or the assembly line, he developed and manufactured the first automobile that many middle class Americans could afford. In doing so, Ford converted the automobile from an expensive curiosity into a practical conveyance that would profoundly impact the landscape of the twentieth century. His introduction of the Model T automobile revolutionized transportation and American industry. As owner of the Ford Motor Company, he became one of the richest and best-known people in the world. He is credited with "Fordism": mass production of inexpensive goods coupled with high wages for workers. Ford had a global vision, with consumerism as the key to peace. His intense commitment to systematically lowering costs resulted in many technical and business innovations, including a franchise system that put dealerships throughout most of North America and in major cities on six continents. Ford left most of his vast wealth to the Ford Foundation and arranged for his family to control the company permanently.
Ford was also widely known for his pacifism during the first years of World War I, and also for being the publisher of antisemitic texts such as the book The International Jew. Ford was devastated when his mother died in 1876. His father expected him to eventually take over the family farm, but he despised farm work. He later wrote, "I never had any particular love for the farm—it was the mother on the farm I loved." In 1879, Ford left home to work as an apprentice machinist in Detroit, first with James F. Flower & Bros., and later with the Detroit Dry Dock Co. In 1882, he returned to Dearborn to work on the family farm, where he became adept at operating the Westinghouse portable steam engine. He was later hired by Westinghouse to service their steam engines. During this period Ford also studied bookkeeping at Goldsmith, Bryant & Stratton Business College in Detroit. In 1891, Ford became an engineer with the Edison Illuminating Company. After his promotion to Chief Engineer in 1893, he had enough time and money to devote attention to his personal experiments on gasoline engines. These experiments culminated in 1896 with the completion of a self-propelled vehicle which he named the Ford Quadricycle. He test-drove it on June 4.
After various test drives, Ford brainstormed ways to improve the Quadricycle. Also in 1896, Ford attended a meeting of Edison executives, where he was introduced to Thomas Edison. Edison approved of Ford's automobile experimentation. Encouraged by Edison, Ford designed and built a second vehicle, completing it in 1898. Backed by the capital of Detroit lumber baron William H. Murphy, Ford resigned from the Edison Company and founded the Detroit Automobile Company on August 5, 1899. However, the automobiles produced were of a lower quality and higher price than Ford wanted. Ultimately, the company was not successful and was dissolved in January 1901. With the help of C. Harold Wills, Ford designed, built, and successfully raced a 26-horsepower automobile in October 1901. With this success, Murphy and other stockholders in the Detroit Automobile Company formed the Henry Ford Company on November 30, 1901, with Ford as chief engineer. In 1902, Murphy brought in Henry M. Leland as a consultant; Ford, in response, left the company bearing his name. With Ford gone, Murphy renamed the company the Cadillac Automobile Company.
Ford Motor Company of Canada, Limited (French: Ford du Canada Limitée) was founded on August 17, 1904, for the purpose of manufacturing and selling Ford automobiles in Canada and the British Empire. It was originally known as the Walkerville Wagon Works and was located in Walkerville, Ontario (now part of Windsor, Ontario). The founder, Gordon Morton McGregor, convinced a group of investors to invest in Henry Ford's new automobile, which was being produced across the river in Detroit, Michigan.
The firm manufactures and sells automobiles in Canada, and also in the United States and other countries around the world.
The Ford Motor Company of Canada is a wholly owned subsidiary of Ford Motor Company, although it once had its own distinct group of shareholders. At its formation, Ford Motor Company was not a shareholder of Ford Canada, but its twelve founding shareholders directly held 51% of Ford Canada's shares, and Henry Ford himself owned 13% of the new company. The Company had gained all Ford patent rights and selling privileges to all parts of the British Empire, except Great Britain and Ireland. It eventually established and managed the following subsidiaries:
The Model C, the first car to be produced in Canada, rolled out of the factory in late September 1904. The Company could produce two cars at a time and in its first full year of production, the Company was able to produce 117 automobiles. The Company's first export sales were to Calcutta, India. Ford is still an important manufacturing enterprise in Windsor.
With the growth in car sales after World War II, together with the acquisition of majority control by Ford Motor Company, Ford of Canada decided to move its head office and build a new assembly plant in Oakville, Ontario. The new Oakville assembly plant was opened in 1953. In order to meet ever increasing demand, the Company opened another assembly plant in Talbotville, Ontario in 1967.
Historically Ford was one of the most powerful companies in Canada, and in the 1970s, Ford was the "largest" company in Canada.
By 1989, during a peak in the environmental movement, the Ford Motor Company of Canada (particularly its Oakville plant) was listed among the "dirty dozen" polluters in Ontario:
"Ford broke lots of rules with the 13.8 million litres of waste it pumped into Lake Ontario every day until a few months ago, when it began a two-stage cleaning process.

"The company used to flush out an average of 392 kilograms (875 pounds) of solids with that waste water every day. It also poured out chemicals that sucked oxygen out of the lake. Ford also had on-and-off problems with the amounts of phosphorus (the chemical largely responsible for nearly killing Lake Erie decades ago) and phenols it discharged.

"The first stage of cleaning up this mess was a $6.8-million, upgraded version of the treatment system it already had on its site. The second stage sends waste water through Halton Region's sewers, so that no water is flowing directly into the lake."
Ford of Canada celebrated its Centennial in 2004, shortly after the Parent Company Ford in the United States did in 2003. That year also saw the compulsory acquisition by Ford Motor Company of the last of the shares held by minority shareholders, which had been originally proposed in 1995. However, the last litigation in the matter, dealing with an oppression remedy claim by the Ontario Municipal Employees Retirement System with respect to its shareholdings, was only resolved by the Ontario Court of Appeal in January 2006.
In 2010, Ford was embroiled in a controversy surrounding a plan to construct a massive gas-fired power plant to be operated by TransCanada on a disused 13.5-acre (55,000 m2) portion of its Oakville assembly plant. Local residents and politicians pleaded with Ford not to continue with the plan, as residents believed it would negatively impact their health and safety. The province cancelled the generating station in October 2010 and both Ford and TransCanada withdrew their planned appeals to the Ontario Municipal Board the following January. The plant was one of two involved in the Ontario power plant scandal, which contributed to the resignation of Premier Dalton McGuinty and Energy Minister Chris Bentley.
In 2021, Bev Goodman became President/CEO of Ford Motor Company of Canada, replacing the legendary Dean Stoneley who has been appointed as general manager, North America truck, Ford Motor Company, a newly created position. Previous CEO's include Mark Buzzell who replaced Diane Craig effective January 1, 2017.
Before Craig, Mondragon had served as president and CEO since September 1, 2008, when he replaced Barry Engle who resigned to join New Holland America as its CEO. William H. Osborne had held the position since 2005 and was replaced by Engle in February 2008.
Condition: Excellent
A stock certificate is issued by businesses, usually companies. A stock is part of the permanent finance of a business. Normally, they are never repaid, and the investor can recover his/her money only by selling to another investor. Most stocks, or also called shares, earn dividends, at the business's discretion, depending on how well it has traded. A stockholder or shareholder is a part-owner of the business that issued the stock certificates.
Item ordered may not be exact piece shown. All original and authentic.