Farah Manufacturing Company, Inc.
Inv# TX1043
Stock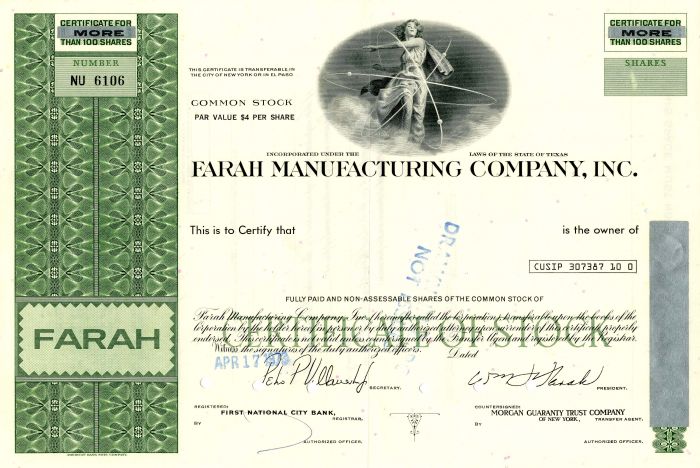 State(s): Texas

Years: 1973
Color: Green
Stock printed by American Bank Note Company. The Farah strike (1972–1974) was a labor strike by the employees of Farah Manufacturing Company, a clothing company in El Paso, Texas and New Mexico. The strike started at the Farah plant in San Antonio in 1972 when the Hispanic women, called Chicanas, led by Sylvia M. Trevino, at the company demanded a labour union formation to fight for better working conditions. The two-year long strike included 4000 individuals, of which the majority were women. William Farah was the CEO of the company. The company's workforce consisted of mostly Mexican women. In 1967, the company went public and employed around 7,000 people. In 1972, it had expanded globally employing 9500 people, making it the second largest employer in Texas. The company expected high production rates from its employees despite low wages and poor working conditions. This led to the beginning of the strike. Workers supporting the strike were penalized and risked their jobs. Amalgamated Clothing Workers of America (ACWA) was the mediator of the strike and within a month after the strike begun, they launched a national boycott of the products of Farah Manufacturing Company. The strike was culminated in 1974 in the favor of the women workers. The women employees benefitted from the strike as some women were then actively involved in political organizations fighting for women's rights and fair and safe labor environments. The Farah Manufacturing Company, owned by Willie Farah, was the "largest manufacturer of men's and boy's pants in the United States." The company had a total of eleven plants all based in San Antonio, El Paso, Victoria, and New Mexico with a total of 10,400 employees pre-strike. Five of the plants were located in El Paso, making it the largest employer in the city. The El Paso-based plants were also the largest private employer and was almost entirely unorganized. The El Paso plant, central part of the strike, was seven-tenths of a mile long with a capacity to hold up to 5,000 employees.
Condition: Excellent
A stock certificate is issued by businesses, usually companies. A stock is part of the permanent finance of a business. Normally, they are never repaid, and the investor can recover his/her money only by selling to another investor. Most stocks, or also called shares, earn dividends, at the business's discretion, depending on how well it has traded. A stockholder or shareholder is a part-owner of the business that issued the stock certificates.
Item ordered may not be exact piece shown. All original and authentic.