Ethel du Pont issued to and signed International Mercantile Marine Co. - Autograph Stock Certificate - Titanic History
Inv# AG2212
Stock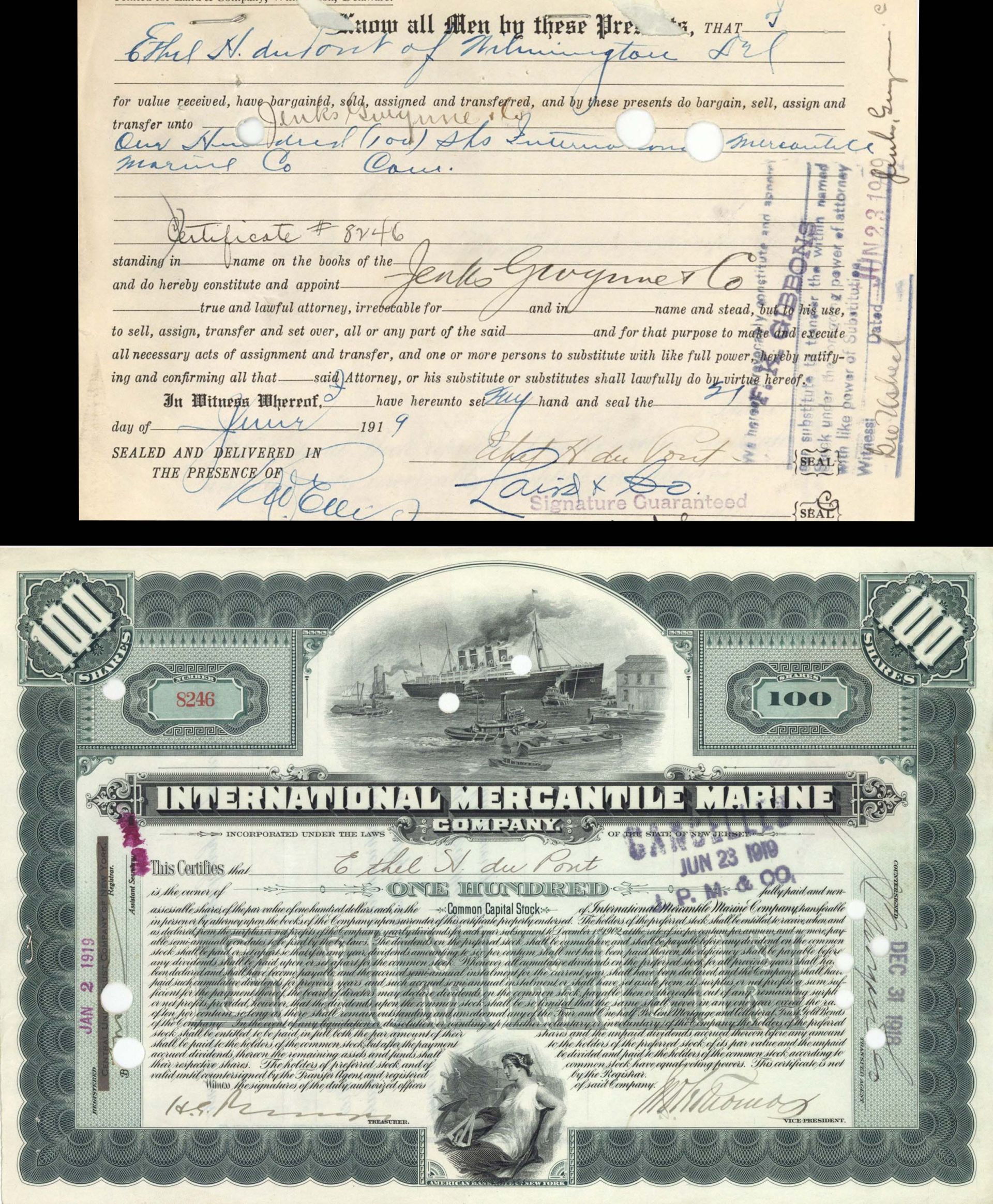 State(s): New Jersey

Years: 1919
Stock issued to and signed on back by Ethel H. du Pont.
Ethel du Pont Roosevelt-Warren (January 30, 1916 – May 25, 1965) was an American heiress and socialite and a member of the prominent du Pont family. She is known for her widely publicized marriage to Franklin D. Roosevelt Jr., son of the 32nd U.S. president Franklin D. Roosevelt and Eleanor Roosevelt, and her eventual suicide in 1965.
Ethel du Pont was born on January 30, 1916, in Wilmington, Delaware, the eldest child of Eugene du Pont Jr. and Ethel Pyle. She was the granddaughter of Eugene du Pont (1840–1902), the first head of the modern DuPont corporation, who saw the corporation into the 20th century. Her siblings were Aimée du Pont, Nicholas R. du Pont, and Eugene du Pont III.
She was raised at Owl's Nest, the family's estate in Greenville, Delaware, attended Misses Hebb's School in Wilmington and graduated from the Ethel Walker School in Simsbury, Connecticut.
On June 30, 1937, she married Franklin Delano Roosevelt, Jr. (1914–1988), third son of sitting President Franklin Delano Roosevelt, Sr. and First Lady Anna Eleanor Roosevelt, and grand-nephew of President Theodore Roosevelt. They had two sons:
The couple separated and formally divorced in 1949. In December 1950, Ethel du Pont Roosevelt remarried to prominent Detroit lawyer Benjamin S. Warren, Jr., a Yale College and University of Michigan Law School graduate. Together, they had a son:
Benjamin S. Warren III (born 1954)
Ethel du Pont was 49 years old when she committed suicide on May 25, 1965. She had been under psychiatric care several times in the years preceding her death and spent time at the Silver Hill Foundation, a hospital in New Canaan, Connecticut. Her death took place a few months before her son Christopher's wedding in June 1965 and while her son Benjamin, then 10 years old, was away at boarding school. Her family endowed the Harvard Medical School Ethel Dupont-Warren Fellowship Award for research in Psychiatry. Read more at https://en.wikipedia.org/wiki/Ethel_du_Pont
Condition: Excellent
A stock certificate is issued by businesses, usually companies. A stock is part of the permanent finance of a business. Normally, they are never repaid, and the investor can recover his/her money only by selling to another investor. Most stocks, or also called shares, earn dividends, at the business's discretion, depending on how well it has traded. A stockholder or shareholder is a part-owner of the business that issued the stock certificates.
Item ordered may not be exact piece shown. All original and authentic.