Detroit and Chicago Railroad Company signed by Alfred H. Smith
Inv# AG1526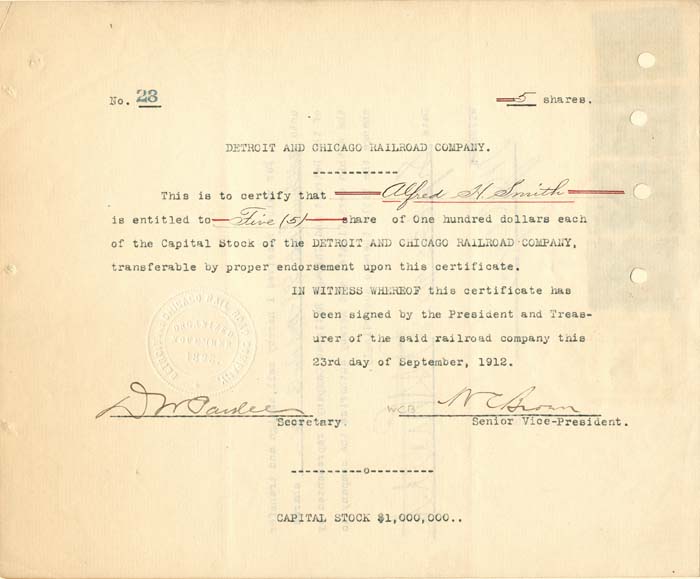 State(s): Illinois
Michigan

Years: 1912
Stock, a very unique primitive format, #28, signed at back by Alfred H. Smith. Only 38 issued. Also comes with a memo to Alfred H. Smith and a typed history on the Detroit and Chicago Railroad.

Alfred H. Smith (1863-1924), an american railway official was born in Cleveland, Ohio. He began work on the New York Central railway system as a messenger-boy in 1879. After serving as a foreman of construction and in various capacities in the engineering department, he was in 1890 appointed superintendent of the Kalamazoo division of the Lake Shore & Michigan Southern railway. He was successively division superintendent, assistant general superintendent and general superintendent of the Lake Shore road. In 1902 he became general superintendent of the New York Central railroad; in 1906 vice-president of the New York Central system; and in 1914 president. When the American railways were taken over by the U.S. Government Dec. 27 1917, he was appointed assistant director-general and it was he who worked out the form of central and regional administration under which the railways of the country were managed during the 26 months of Government operation. His aim, in which he succeeded, was to keep the management of the roads with their 2,000,000 employees, nearly all voters, in the hands of practical railway-men and, above all, out of politics. He divided the country into two regions and later into seven, each region being in charge of a railway officer of experience and reputation, he himself taking charge of the most important region, the Eastern. These regional directors had complete authority and only broad matters of policy and inter-regional questions were handled by the central (political) administration at Washington. In this way the railways were conducted throughout the war without great blunders or disorganization. On the completion of this important national service he was reelected president of the New York Central Lines in June 1919. It was largely due to him that the New York Central Lines were greatly strengthened in operating efficiency and financial credit. The Alfred H. Smith Memorial bridge is named in honor of Alfred Holland Smith, who authorized the construction of this bridge as part of an extensive project known as the Castleton Cut-Off. He died in a horse-riding accident in Central Park in 1924, prior to the completion of the bridge in that same year. He is sometimes confused with Alfred E. Smith, New York's governor at the time.
Condition: Excellent
Item ordered may not be exact piece shown. All original and authentic.