Cuba Railroad Co. - Issued to Will of Sir William C. Van Horne - Stock Certificate
Inv# AG2656
Stock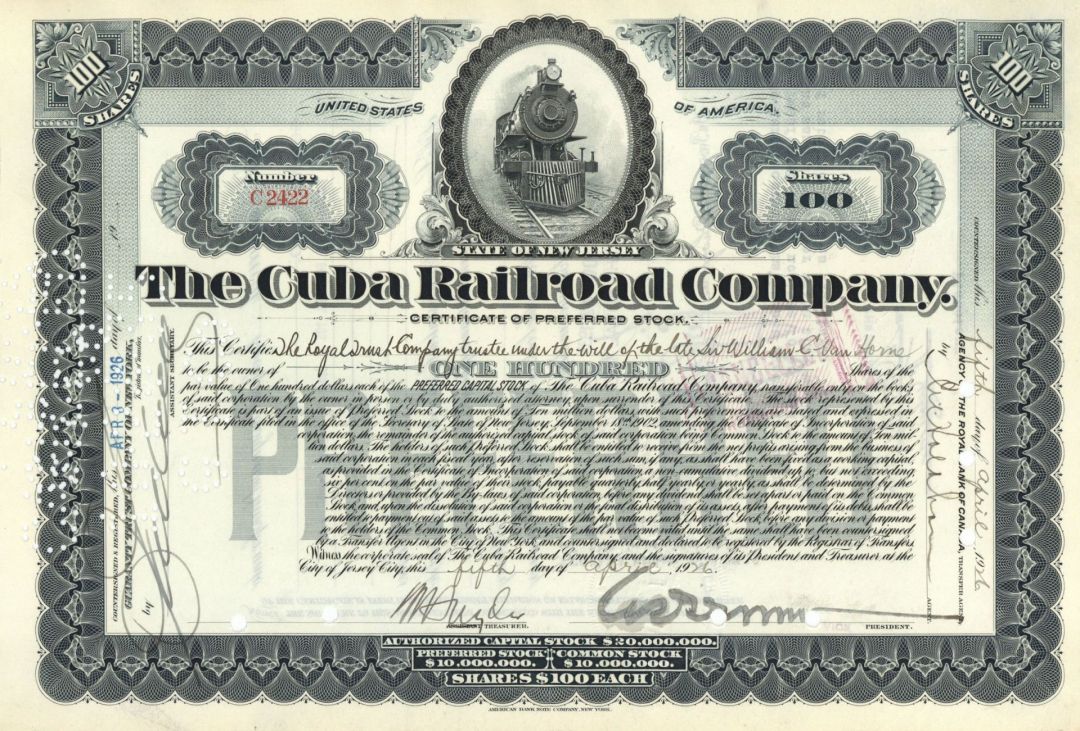 View Larger Image
Country: Cuba

State(s): New Jersey

Years: 1926
Stock issued to Will of Sir William C. Van Horne printed by American Bank Note Company, New York. Superb!
Sir William Cornelius Van Horne, (February 3, 1843 – September 11, 1915) succeeded Lord Mount Stephen as president of the Canadian Pacific Railway (CPR) in 1888. He was a prominent member of the Whitney syndicate that created the Cuba Railroad Company, incorporated at Trenton, New Jersey, in 1900 with a capitalization of $8,000,000. He lived at the Van Horne Mansion in Montreal's Golden Square Mile. Born in 1843 in rural Illinois, Van Horne moved with his family to Joliet, Illinois, when he was eight years old. Van Horne considered the railway an integrated communications and transportation system and convinced the directors and shareholders to create a telegraph service and an express freight delivery service as a complement to the railway. Van Horne was knowledgeable in nearly every element of the railway industry, including operating a locomotive. A wealthy man, he later became an investor of the Cuba Railroad Company, which built the first trans-country railway connecting Havana with the two eastern provinces (Camaguey and Oriente) and the city of Santiago de Cuba in 1901. From 1885 onward he was more and more associated with every branch of Canadian mercantile and financial life, and as a publicist gave expression to his views on political and economic questions. He was responsible for launching the sea transport division of the Canadian Pacific Railway, inaugurating a regular service between Vancouver and Hong Kong in 1891 on the Empress luxury liners. He also presided over the expansion of the CPR into the luxury hotel business and participated in the design of two of the most famous ones in the chain, the Château Frontenac in Quebec City and Chateau Lake Louise in Alberta. Read more at https://en.wikipedia.org/wiki/William_Cornelius_Van_Horne
Condition: Excellent
A stock certificate is issued by businesses, usually companies. A stock is part of the permanent finance of a business. Normally, they are never repaid, and the investor can recover his/her money only by selling to another investor. Most stocks, or also called shares, earn dividends, at the business's discretion, depending on how well it has traded. A stockholder or shareholder is a part-owner of the business that issued the stock certificates.
Item ordered may not be exact piece shown. All original and authentic.