Credit Foncier Argentin - Stock Certificate
Inv# FS1025
Stock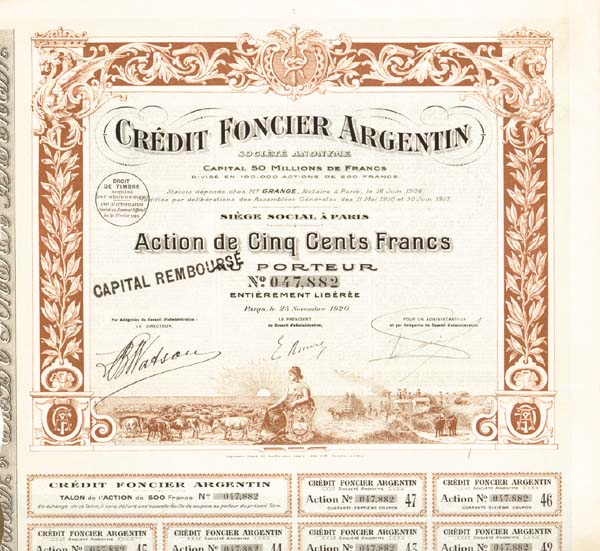 Country: Argentina
France

Years: 1920
Color: Brown-Blue or Brown-Yellow
Stock. Elaborate border & magnificent vignette across bottom of bond of the working fields, cattle, with great sunrise in background. Scarce!! Great!!! Please specify color.
In relation to Credit Foncier Argentin, Crédit Foncier de France is a national mortgage bank of France. A subsidiary of the BPCE, its headquarters is located in Charenton, 100 metres outside the Paris city limits. The current CEO is Bruno Deletré.
On 26 June 2018 it was announced that the organisation was to be closed, and its activities integrated into BPCE.
The Crédit Foncier (English: landed credit) initially made loans to communes. The movement was initiated by Louis Wolowski and Count Xavier Branicki, and sanctioned by Emperor Napoléon III in 1852 in an attempt to modernize the medieval French banking system and expand French investment outside Europe. Its name became the "Banque Foncière of Paris." Similar institutions at Nevers and Marseilles were amalgamated into one under the title of "Crédit Foncier de France." The amount of the loan could not exceed half of the value of the property pledged or hypothecated, and that the repayment of the loan was by an annuity, which included the interest and part of the principal, terminable at a certain date. The Crédit Foncier had a monopoly on mortgages.
In modern banking terminology a "credit foncier" loan is a loan for a fixed period with regular repayments where each repayment includes components of both principal and interest, such that at the end of the period the principal will have been entirely repaid. This is to be contrasted with an "interest only" loan where the repayments are of interest only.
Condition: Excellent
A stock certificate is issued by businesses, usually companies. A stock is part of the permanent finance of a business. Normally, they are never repaid, and the investor can recover his/her money only by selling to another investor. Most stocks, or also called shares, earn dividends, at the business's discretion, depending on how well it has traded. A stockholder or shareholder is a part-owner of the business that issued the stock certificates.
Item ordered may not be exact piece shown. All original and authentic.