Compagnie des Installations Maritimes de Bruges - Stock Certificate (Uncanceled)
Inv# SS1110A
Stock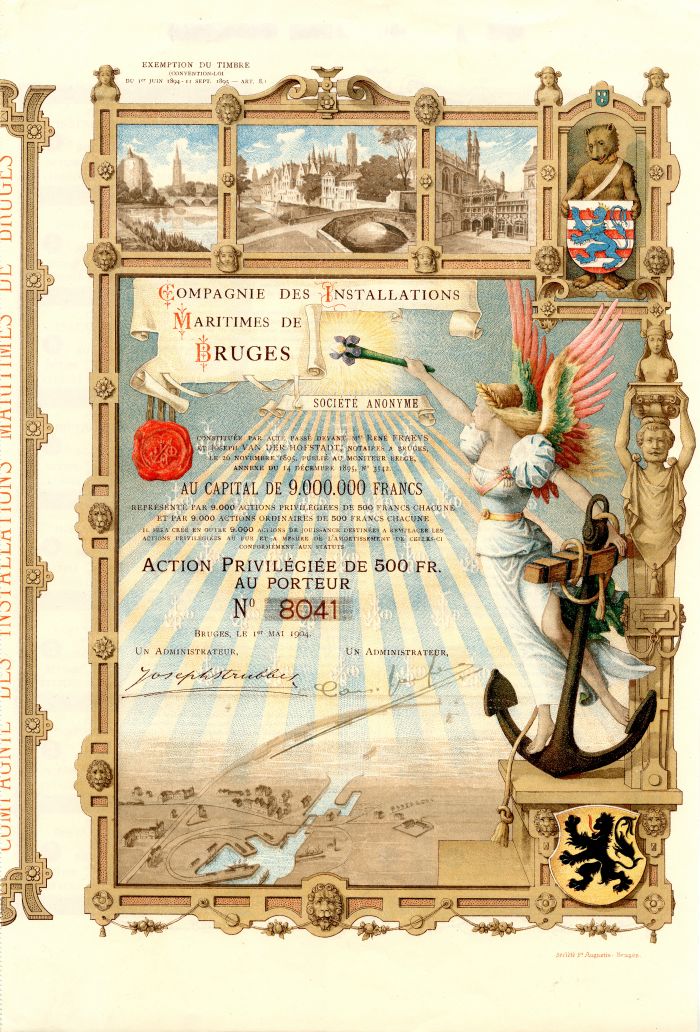 View Larger Image
Country: Belgium

Years: 1895
The Most Illustrated Stock Certificate. Includes a PASS-CO AUTHENTICATION. Many Coupons attached. Traditionally comes cancelled. Depicts three scenes of the city of Bruges. Beautiful angel with large anchor at right with enormous port scene at bottom. Bear at top right. Fully issued and uncanceled. Click on "View Larger Image" to see PASS-CO. Bearer Share for 500 Belgian Francs.
Formed under the act dated November 26, 1895 for the construction of ports and a canal on the northern side of Belgium. The company was a major contributor to the development of Bruges-Zeebrugge as a major cargo port of Belgium. Bruges is the capital and largest city of the province of West Flanders in the Flemish Region of Belgium, in the northwest of the country, and the seventh-largest city of the country by population. Along with a few other canal-based northern cities, such as Amsterdam and St Petersburg, it is sometimes referred to as the Venice of the North. Bruges has a significant economic importance, thanks to its port, and was once one of the world's chief commercial cities. Bruges is well known as the seat of the College of Europe, a university institute for European studies. Bruges was a location of coastal settlement during prehistory. This Bronze Age and Iron Age settlement is unrelated to medieval city development. In the Bruges area, the first fortifications were built after Julius Caesar's conquest of the Menapii in the first century BC, to protect the coastal area against pirates. The Franks took over the whole region from the Gallo-Romans around the 4th century and administered it as the Pagus Flandrensis. The Viking incursions of the ninth century prompted Count Baldwin I of Flanders to reinforce the Roman fortifications; trade soon resumed with England and Scandinavia. Early medieval habitation starts in the 9th and 10th century on the Burgh terrain, probably with a fortified settlement and church.
Condition: Excellent
A stock certificate is issued by businesses, usually companies. A stock is part of the permanent finance of a business. Normally, they are never repaid, and the investor can recover his/her money only by selling to another investor. Most stocks, or also called shares, earn dividends, at the business's discretion, depending on how well it has traded. A stockholder or shareholder is a part-owner of the business that issued the stock certificates.
Item ordered may not be exact piece shown. All original and authentic.