Columbus Hope and Greensburg Railroad Co. signed by Wm. K. Vanderbilt Jr.
Inv# AG2074
Stock
State(s): Indiana

Years: 1918
Stock signed by Wm. K. Vanderbilt Jr. Cancellation holes in signature.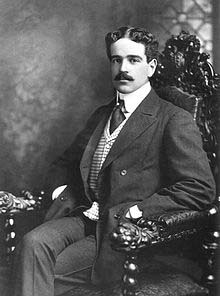 William Kissam Vanderbilt II (26 October 1878 – 8 January 1944) was a motor racing enthusiast and yachtsman, and a member of the prominent American Vanderbilt family. Born to a life of luxury, he was raised in Vanderbilt mansions, traveled to Europe frequently, and sailed the globe on yachts owned by his father. Willie was educated by tutors and at St. Mark's School. He attended Harvard University but dropped out after two years. While a great part of his life was filled with travel and leisure activities, Willie's father put him to work at the family's New York Central Railroad offices at Grand Central Terminal in Manhattan. As such, in 1905 he joined other Vanderbilts on Fifth Avenue, building a townhouse at number 666. Already extremely wealthy from a trust fund and from his income as president of the New York Central Railroad Company, on his father's death in 1920 Willie inherited a multimillion-dollar fortune. On May 9, 1917, Vanderbilt went into active service in the Navy as a lieutenant (junior grade) in command of USS Tarantula (SP-124) at the Brooklyn Navy Yard. The Tarantula was a yacht owned by Vanderbilt which he has leased to the Navy for the duration of the war. He was assigned to patrol duty in the waters of the 3rd Naval District and performed convoy escorts in the waters off New York and New Jersey. On October 1, 1917, he was released from active duty and given a temporary leave of absence to resume his duties of vice-president of the New York Central Railroad. A few months later, he was elected president of the New York Central Railroad and acted in this capacity for the remainder of the war. After the war, Vanderbilt was promoted to the rank of lieutenant commander in the Naval Reserve on May 17, 1921. He remained in the Naval Reserve until he was transferred to the Honorary Retired List on January 1, 1941, for physical disability. Although he developed an interest in horse racing and yachting, he was particularly fascinated with automobiles. At age 10, during a stay in the south of France he had ridden in a steam-powered tricycle from Beaulieu-sur-Mer the 7 kilometers to Monte Carlo and as a twenty-year-old, in 1898 he ordered a French De Dion-Bouton motor tricycle and had it shipped to New York. Soon, he acquired other motorized vehicles and before long began to infuriate citizens and officials alike as he sped through the towns and villages of Long Island, New York, en route to Idle Hour, his parents' summer estate at Oakdale. A skilled sailor, he participated in yacht racing, winning the Sir Thomas Lipton Cup in 1900 with his new 70-foot (21 m) yacht he had named Virginia in honor of his new bride. In 1902, Vanderbilt began construction on his own country place at Lake Success on Long Island that he named "Deepdale." However, sailing would take second place to his enthusiasm for fast cars. In 1904, Willie set a new land speed record of 92.30 mph (148.54 km/h) in a Mercedes at the Daytona Beach Road Course at Ormond Beach, Florida. That same year, he launched the Vanderbilt Cup, the first major trophy in American auto racing. An international event, designed to spur American manufacturers into racing, the race's large cash prize drew the top drivers and their vehicles from across the Atlantic Ocean who had competed in Europe's Gordon Bennett Cup. Held at a course set out in Nassau County on Long Island, New York, the race drew large crowds hoping to see an American car defeat the mighty European vehicles. However, a French Panhard vehicle won the race and fans would have to wait until 1908 when 23-year-old George Robertson of Garden City, New York, became the first American to win the Vanderbilt Cup. Vanderbilt and his powerful Mercedes at Daytona (1904). Courtesy Florida Photographic Collection The Vanderbilt Cup auto races repeatedly had crowd control problems and at the 1906 race a spectator was killed. Seeing the potential to solve the safety issue as well as improve attendance to his race, Willie formed a corporation to build the Long Island Motor Parkway, one of the country's first modern paved parkways that could not only be used for the race but would open up Long Island for easy access and economic development. Construction began in 1907 of the multimillion-dollar toll highway that was to run from the Kissena Corridor in Queens County over numerous bridges and overpasses to Lake Ronkonkoma, a distance of 48 miles (77 km). However, the toll road was never able to generate sustainable profits and in 1938 it was formally ceded to the county governments in lieu of the $80,000 due in back taxes. His new high-speed road complemented a train service that allowed a rapid exit from Manhattan. Becoming the first suburban automobile commuter, in 1910 Willie began work on the much more elaborate and costly "Eagle's Nest" estate at Centerport, Long Island. An avid collector of natural history and marine specimens as well as other anthropological objects, he traveled extensively aboard his yacht as well as overland to numerous destinations around the globe. He acquired a vast array of artifacts for his collection during his well-documented travels and after service with the United States Navy during World War I, he published a book titled "A Trip Through Sicily, Tunisia, Algeria, and Southern France." A few years later, he engaged William Belanske, an artist from the American Museum of Natural History to participate with him in a scientific voyage to the Galapagos Islands. By 1922, Vanderbilt had commissioned the construction of single-story museum on his Long Island estate to serve as a public museum, and less than a decade later a second story was added on to accommodate the growing collection. William Belanske, who had accompanied Vanderbilt on his Galapagos voyage, was employed as the full-time curator of this museum.
Condition: Excellent
A stock certificate is issued by businesses, usually companies. A stock is part of the permanent finance of a business. Normally, they are never repaid, and the investor can recover his/her money only by selling to another investor. Most stocks, or also called shares, earn dividends, at the business's discretion, depending on how well it has traded. A stockholder or shareholder is a part-owner of the business that issued the stock certificates.
Item ordered may not be exact piece shown. All original and authentic.