Collection of 5 Different Civil War Related Items - 1861-65 dated Stock, Confederate Coupon & 3 Prints
Inv# CW1066
Stock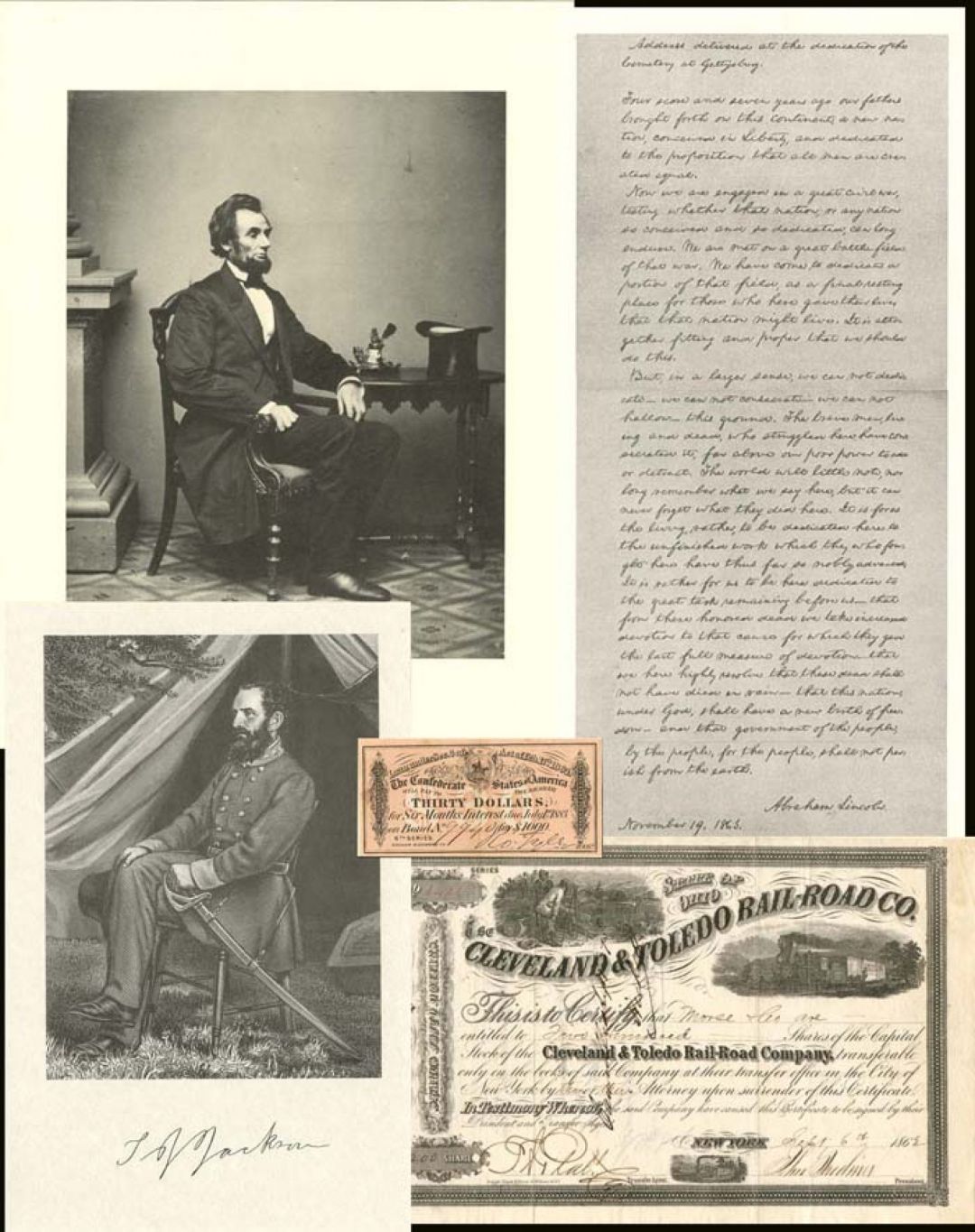 View Larger Image
State(s): Ohio
Virginia

Years: 1861-65
This collection representative of the Civil War includes a 10" x 13" quality reprint portrait of Abraham Lincoln, an original Cleveland and Toledo Railroad Co. Stock dated during the Civil War, a modern copy 5 1/2" x 8 1/2" portrait of Stonewall Jackson, an original 3" x 1 1/2" Confederate Bond Coupon, and a modern 6 1/2" x 13 1/2" print of the Gettysburg Address.
The Junction Railroad was chartered March 2, 1846, to build from Cleveland west to Toledo. The Toledo, Norwalk and Cleveland Railroad was chartered March 7, 1850, to build from Toledo east to Grafton on the Cleveland, Columbus and Cincinnati Railroad. The latter company opened on January 24, 1853, finally forming a continuous Buffalo-Chicago line. On September 1 the two companies merged to form the Cleveland and Toledo Railroad, with the Junction Railroad becoming the Northern Division and the Toledo, Norwalk and Cleveland the Southern Division. The Northern Division opened from Cleveland west to Sandusky on October 24, 1853, and the rest of the way to Toledo on April 24, 1855. The Northern Division was abandoned west of Sandusky due to lack of business, but the track was relaid in 1872, merging with the Southern Division at Millbury, east of Toledo. In 1866 the Southern Division east of Oberlin was abandoned and a new line was built to Elyria on the Northern Division, ending the use of the Cleveland, Columbus and Cincinnati Railroad. Read more at https://en.wikipedia.org/wiki/Lake_Shore_and_Michigan_Southern_Railway
The American Civil War (1861–1865), often referred to as The Civil War in the United States, was a civil war fought over the secession of the Confederacy. In response to the election of an anti-slavery Republican as President, 11 southern slave states declared their secession from the United States and formed the Confederate States of America ("the Confederacy"); the other 25 states supported the federal government ("the Union"). After four years of warfare, mostly within the Southern states, the Confederacy surrendered and slavery was outlawed everywhere in the nation. Issues that led to war were partially resolved in the Reconstruction Era that followed, though others remained unresolved. Read more at https://en.wikipedia.org/wiki/American_Civil_War
Condition: Excellent
A stock certificate is issued by businesses, usually companies. A stock is part of the permanent finance of a business. Normally, they are never repaid, and the investor can recover his/her money only by selling to another investor. Most stocks, or also called shares, earn dividends, at the business's discretion, depending on how well it has traded. A stockholder or shareholder is a part-owner of the business that issued the stock certificates.
Item ordered may not be exact piece shown. All original and authentic.