Cleveland and Toledo Rail-Road Company signed by Rufus H. King - Stock Certificate
Inv# AG1932
Stock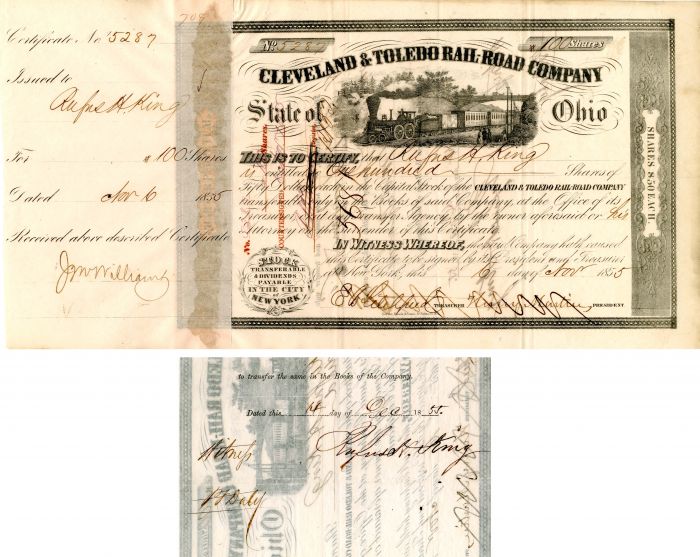 State(s): Ohio

Years: 1855
Stock issued to and signed on back by Rufus H. King. Rare!
Rufus H. King (January 20, 1820 – September 13, 1890) was a U.S. Representative from New York. Born in Rensselaerville, New York, King completed preparatory studies and was graduated from Wesleyan University. He studied law. He was admitted to the bar in 1843 and commenced practice in Catskill, New York. King was elected as an Opposition Party candidate to the Thirty-fourth Congress (March 4, 1855 – March 3, 1857). He was not a candidate for renomination in 1856. He resumed the practice of law. He served as president of the Catskill National Bank from 1865 to 1867. On the consolidation of that bank with the Tanners' National Bank, King continued on the board of directors. He served as presidential elector on the Republican ticket in 1860. He served as delegate to the Republican National Convention in 1868 and 1880. He died in Catskill, New York, September 13, 1890. He was interred in Catskill Village Cemetery.
Condition: Excellent
A stock certificate is issued by businesses, usually companies. A stock is part of the permanent finance of a business. Normally, they are never repaid, and the investor can recover his/her money only by selling to another investor. Most stocks, or also called shares, earn dividends, at the business's discretion, depending on how well it has traded. A stockholder or shareholder is a part-owner of the business that issued the stock certificates.
Item ordered may not be exact piece shown. All original and authentic.