Cleveland and Toledo Rail-Road Co. Issued to and Signed by D.N. Barney
Inv# AG2206
Stock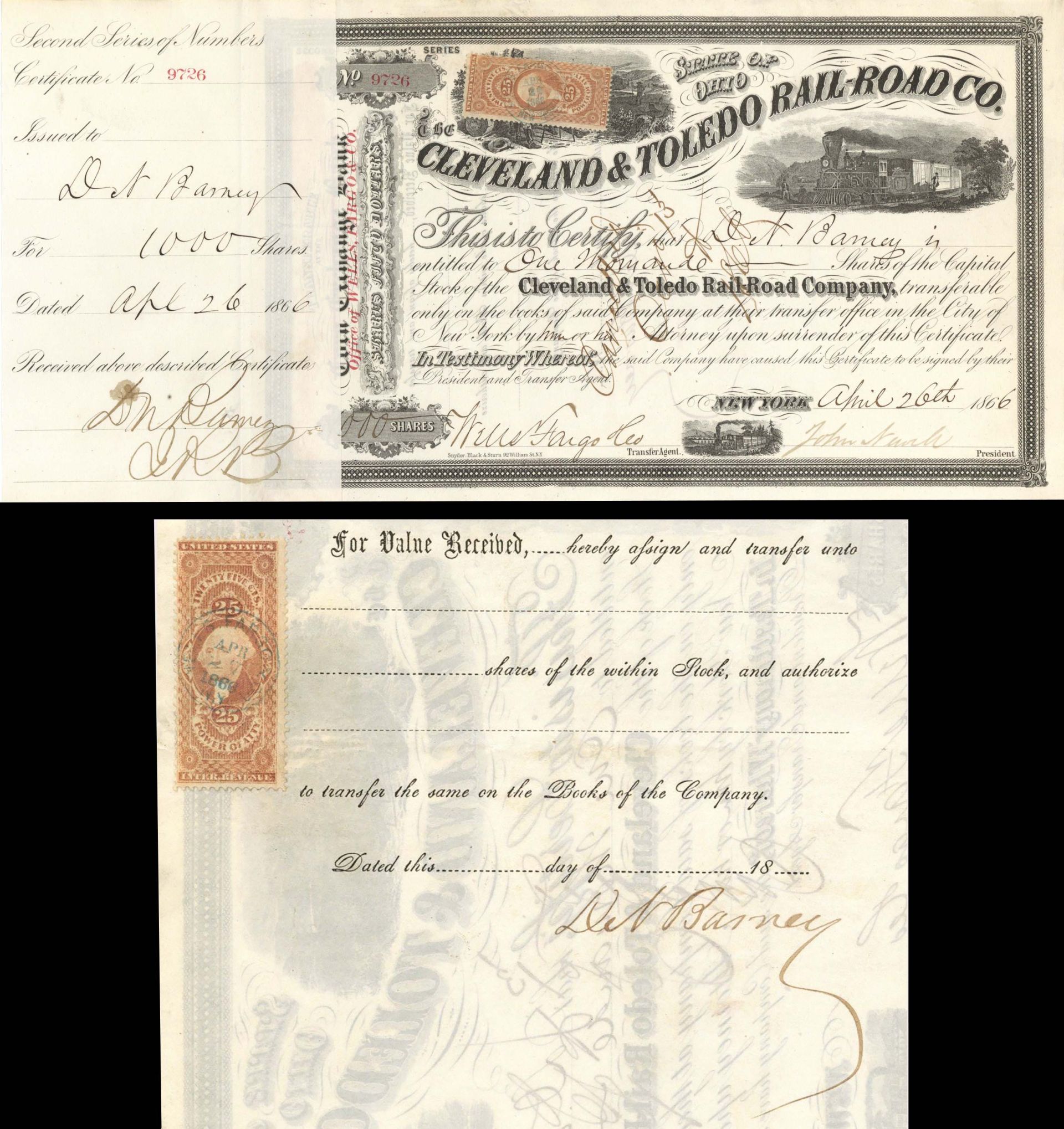 State(s): Ohio

Years: 1866
Stock issued to and signed on back by D.N. Barney.
Danford Newton Barney (March 4, 1808 – March 8, 1874) was an American expressman who served as president of Wells Fargo & Company from 1853 to 1866.
Barney was born in 1808 at Henderson, New York, the son of John Barney (1775–1863) and Sarah (née Grow) Barney. His father was a farmer in Jefferson County, New York, when Danford and his younger brother Ashbel were born.
He was a descendant of Jacob Barney of Bradenham, Buckinghamshire, England, who settled at Salem, Massachusetts, about 1630. Through his brother, he was uncle to Charles T. Barney, the president of the Knickerbocker Trust Company, the collapse of which shortly before Barney's death sparked the Panic of 1907.
As a young man, Barney went to Sacketts Harbor, New York, where he was cashier in a bank. In 1842, Barney and his brother, Ashbel, went to Cleveland, Ohio, and engaged in business as forwarding and commission merchants as Danford N. Barney & Company. Barney resided in Cleveland at 24 Public Square and later 169 Euclid Street.
In 1849, Barney moved to Buffalo, New York, where he was a commission merchant and proprietor of a bank. When Edwin Barber Morgan resigned as president of Wells Fargo & Company on November 26, 1853, Barney was elected to succeed him. He was also elected to the board of directors, of which he remained a member until 1870.
In 1856, he moved to New York City. Besides serving as president and a director of Wells Fargo, Barney was also a director of John Butterfield's Overland Mail Company, organized in 1857 to provide government mail coach service from Tipton, Missouri, to San Francisco, California, by way of El Paso, Texas, and Yuma, Arizona. On April 15, 1863, Danford Barney, Benjamin Pierce Cheney and William Fargo were appointed a committee in New York to go to California "in the best interests of the company". Traveling by stage, they spent most of July, all of August, and most of September 1863 in California looking after the company's affairs. Similarly, on February 8, 1865, Barney was asked to visit London "in reference to a financial agency of the California Railroad" (i.e., the Central Pacific Railroad, the western portion of the transcontinental railroad then under construction).
Barney was President of Wells Fargo until the company was merged into the Holladay Overland Mail and Express Company on November 1, 1866. The surviving company was thereupon renamed Wells Fargo & Company. Barney resigned as president of Wells Fargo to devote more time to his own business, the United States Express Company; and Louis McLane was elected president on November 1, 1866.
In 1870, Danford Barney retired from the board of directors of Wells Fargo. He was one of the incorporators of the New York Elevated Railroad in 1871, serving as president upon his death.
Condition: Excellent
A stock certificate is issued by businesses, usually companies. A stock is part of the permanent finance of a business. Normally, they are never repaid, and the investor can recover his/her money only by selling to another investor. Most stocks, or also called shares, earn dividends, at the business's discretion, depending on how well it has traded. A stockholder or shareholder is a part-owner of the business that issued the stock certificates.
Item ordered may not be exact piece shown. All original and authentic.