Cleveland, Painesville and Ashtabula Rail Road Company issued to and signed by Amasa Stone, Jr.
Inv# AG2178
Stock
State(s): Ohio

Years: 1864
Stock issued to and signed as president by Amasa Stone, Jr. Civil War dated! 25 cents revenue stamp.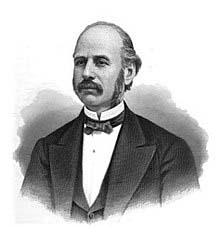 Amasa Stone, Jr. (April 27, 1818 – May 11, 1883) was an American industrialist who is best remembered for having created a regional railroad empire centered in the U.S. state of Ohio from 1860 to 1883. He gained fame in New England in the 1840s for building hundreds of bridges, most of them Howe truss bridges (the patent for which he had licensed from its inventor). After moving into railroad construction in 1848, Stone moved to Cleveland, Ohio, in 1850. Within four years he was a director of the Cleveland, Columbus and Cincinnati Railroad and the Cleveland, Painesville and Ashtabula Railroad. The latter merged with the Lake Shore and Michigan Southern Railway, of which Stone was appointed director. Stone was also a director or president of numerous railroads in Ohio, New York, Pennsylvania, Indiana, Illinois, Iowa, and Michigan.
Stone played a critical role in helping the
Standard Oil
company form its
monopoly
, and he was a major force in the Cleveland banking, steel, and iron industries. Stone's reputation was significantly tarnished after the
Ashtabula River
railroad bridge, which he designed and constructed, collapsed in 1876 in the
Ashtabula River railroad disaster
. Stone spent many of his last years engaging in major charitable endeavors. Among the most prominent was his gift which allowed Western Reserve College (later known as
Case Western Reserve University
) to relocate from
Hudson, Ohio
, to
Cleveland
Condition: Excellent
A stock certificate is issued by businesses, usually companies. A stock is part of the permanent finance of a business. Normally, they are never repaid, and the investor can recover his/her money only by selling to another investor. Most stocks, or also called shares, earn dividends, at the business's discretion, depending on how well it has traded. A stockholder or shareholder is a part-owner of the business that issued the stock certificates.
Item ordered may not be exact piece shown. All original and authentic.