Cle-elum Coal Company - Stock Certificate
Inv# NP1052
Stock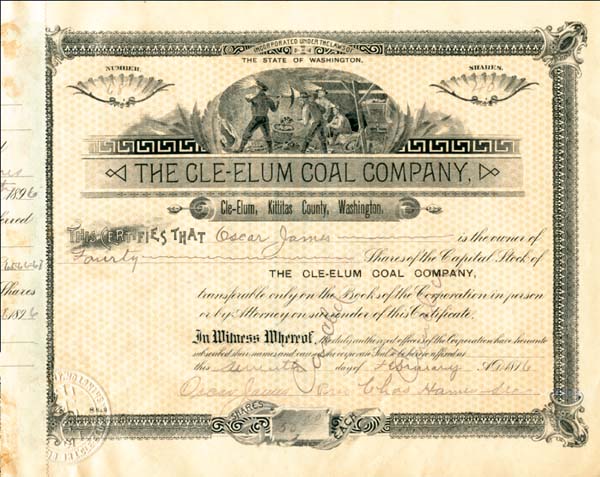 State(s): Washington

Years: 1894-99
Coal Mines Trail is a pleasant, 4.7 mile, path that allows visitors to stroll in the footsteps of coal mining history. Though the trail actually starts in Cle Elum and extends to Ronald, it is easily accessible from Roslyn near the South-East end of Runje Field. The trail follows the path of the Northern Pacific Railroad branch line developed in 1886 to transport coal from the Roslyn/Cle Elum Coal Field. In 1887, the branch was extended to the #3 Mine where Ronald developed. The Roslyn/Ronald line was operated until 1986, and then in 1994, it began its conversion to this public recreational trail. (http://whyroslyn.com) Also available unissued at a lesser price. Please inquire if interested.
A stock certificate is issued by businesses, usually companies. A stock is part of the permanent finance of a business. Normally, they are never repaid, and the investor can recover his/her money only by selling to another investor. Most stocks, or also called shares, earn dividends, at the business's discretion, depending on how well it has traded. A stockholder or shareholder is a part-owner of the business that issued the stock certificates.
Item ordered may not be exact piece shown. All original and authentic.